Karrick's passion is need for speed
For 28 years, area driver has thrived on race tracks throughout the region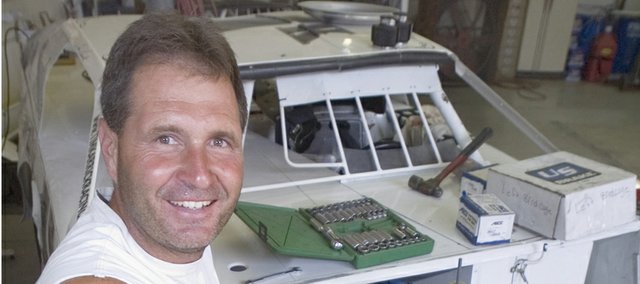 Basehor resident Tim Karrick defines the saying "what you see is what you get."
You can expect him to be out in his garage that is tucked away in the northwest side of the city when it is 100 degrees outside and not much cooler indoors. You can expect him to be working on one of his two modified race cars preparing for a full weekend of racing - Friday nights at Lakeside Speedway and Saturday nights at the Central Missouri Speedway in Warrensburg, Mo.
You also can expect him to be near the top of the standings every year.
This year, Karrick sits in second place at Lakeside, just 13 points behind Chad Lyle, and second at Central Missouri, only 66 points behind Aaron Marrant. Both are gaps Karrick thinks he can close if some breaks go his way. Friday he won the feature race at Lakeside, and hopes to close the gap further in the coming weeks.
Karrick's racing success started modestly back in 1980. He had just graduated from high school and his cousin, who had injured a thumb and was unable to drive a race car, had a car ready to race for a weekend run. He asked Karrick if he could drive the car, and he agreed.
Now, if this was Hollywood Karrick would have gone on to win the race and garnered all the glory. But this is not the silver screen.
"I got to drive the car for about five laps before the thing started to overheat. It was my very first experience racing," Karrick recalled. "The ride didn't last all that long, but it was enough to get me hooked. It was a lot of fun."
Fast-forward 28 years and 17 racing titles later, and you see a race car driver who is still having fun.
Karrick's garage is a busy scene. His crew is made up of Jerry Brown and Andy Smith who work diligently on the two cars trying to get them in shape for the upcoming race, as Karrick goes from car to car pointing out little details. The 45-year-old Karrick has the energy of somebody half his age, and this is after he has spent the day working in the heat for Water One of Johnson County. But he is not about to spend the evening sitting on the couch watching television.
"I believe if you work hard enough in anything that you do, good things will happen," he said. "Learning how to take care of a race car helped me build my own house, it's given me the initiative to do things for myself. Racing has given me the drive to succeed in life."
It is this kind of approach to life that Karrick got from his late father, Tom Karrick, who was a vital part of the Karrick Racing Team until his death.
"My dad was my idol growing up, along with King Richard (Richard Petty) and Dale (Earnhardt) Sr. He knew a lot about cars, but he taught himself everything."
He remembers his father's car knowledge was learned through a series of hardcover mechanics books he had purchased mail-order from a television advertisement. Now, times have changed. The manuals have been replaced by trade shows and networking to keep up with the innovations in racing. And in this sort of climate it is good to know a big name in the racing world.
Enter Karrick's friend Clint Bowyer.
Bowyer drives the 07 Jack Daniels car on the NASCAR Sprint Cup Series, and is currently ranked 13th in the Chase standings. He won two titles at Lakeside in 2001 and 2002, is the one who talked Karrick into going to trade shows like the Performance Racing Industry show, and according to Karrick it has advanced his career a great deal. Bowyer's connections have helped also.
"I really like big crowds and people. And anywhere Clint goes there are crowds; you meet a lot of people with Clint," Karrick said.
Karrick, whose 41 victories recently surpassed Bowyer's career wins at Lakeside since it converted to dirt, has a devoted fan base of his own. They bring him and his family gifts at the races from time to time. That kind of devotion drives him to be the very best he can be.
"When I see other drivers win and see the fans in their pits, I don't like that. It just makes me go home and work that much harder to put on a show the next week so I can regain that winning feeling," Karrick said. "I hate mediocrity, I hate embarrassing myself in front of my family and fans; winning inspires me."
Karrick has battled anxiety through the years. It is mainly the concern that is brought on by being at his day job too long and not being able to put the proper amount of work into his car for the weekend races. This commitment to always go to a second job has also, in his opinion, cost him promotion opportunities at work.
"My supervisors sometimes say that it seems like my job isn't my No. 1 concern, and racing may be most important to me," Karrick said, adding with a sarcastic chuckle, "I always ask, 'what gives you that impression?'"
Despite what racing has potentially cost him in his professional career, Karrick has built a nice life for his family in Basehor. He has large novelty checks hanging from his ceiling in his garage that have amounts in the thousands printed on them to remind him that a night in a burning hot car and sweaty fire-retardant racing suit can be worth it.
He is also a family man. His wife Jeanette and daughters Julia and Katherine are the biggest part of his life and go to every race that they can.
"I love to win races, but it is almost as good when I lose and my daughters come and give me a big hug and tell me it's going to be OK," Karrick said. "It is almost a hollow feeling when they aren't there at a race to share that with me."
He says that he really likes working on the cars and having that camaraderie with the guys, but hates wrecking. When he wrecks he has a feeling in his stomach from the point of the crash, all the way until the minute the car is completely fixed for the next race.
He has avoided severe physical damage over the years in the most dangerous sport there is. Despite being nicked up and bruised, having his "bell rung" and two severe concussions, he has a good safety record on the track, though he says Jeanette gets nervous when she sees him going off the track with his car facing backwards.
"There have been a few times after a crash when I have asked 'what happened?' and after hearing the explanation responding 'really?' because I had completely blacked out," Karrick recalls. "That kind of thing is always in the back of your mind, but you just kind of do things instinctively when you are racing."
Karrick, has yet to decide how long he is going to continue to race. His wife used to ask him about that a lot, but the frequency has decreased since his workload has lightened over the past few years.
"Anymore, I try to get my cars ready to go as soon as possible so I can relax before the weekend starts," Karrick said. "I guess I don't stop and smell the roses enough."
This season he says that he has had some really fast cars to put him second in the standings, but feels fortunate to be in that position because there have been some real struggles certain weeks.
"If things work out, we are going to make a run at the championship," he said. "That is all you can ask for in the end."