Lombardino gets comfortable in all-star game at Washburn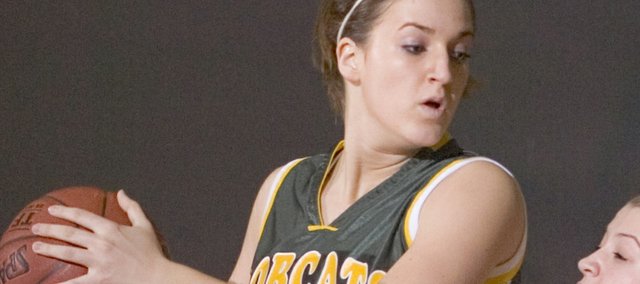 Bailey Gee drove the basketball into the lane on Aug. 6 and discovered what so many high school basketball players have learned - Cassie Lombardino can be impossible to shoot over.
Gee, who has signed to play at the University of Missouri and was selected as the Miss Kansas Basketball Player of the Year by Kansas basketball coaches, had her shot attempt blocked by Lombardino, a 2008 graduate of Basehor-Linwood High School, during the Kansas Basketball Coaches Association All-Star Game at Washburn University.
"Bailey is a few inches shorter than Cassie but has tremendous post moves," Basehor coach Noah Simpson said. "Cassie did a good job of changing what Bailey was trying to do. It was a great block."
Simpson was just one of a large contingent of Basehor fans who traveled to Topeka to watch the game.
In the days following the game, the block remains a highlight for Lombardino, who scored three points for the North team in an 86-75 loss to the South team.
"The game was cool, kind of like a warm-up to what next year is going to be, playing on that court and seeing what it is going to be like," Lombardino said. "It kind of helped me get some of the jitters out of playing in the new arena."
Lombardino has signed to play at Washburn, and the game was her first in the new arena. She moves to Topeka today and classes start Aug. 18 with preseason practices beginning in September.
The all-star game was Lombardino's third since the conclusion of the high school season. She also played in the Kansas versus Missouri Metro basketball game.
"It was kind of cool to play with all those all-star players," Lombardino said.
Following the metro game, Lombardino joined 'the Scrubs,' a Mid America Youth Basketball team made up of players who played for the Kansas metro basketball team.
The team name evolved during an after-practice brainstorming session.
"We wanted something unique and different," Lombardino said. "I think we got it."
The Scrubs were a collection of Kansas All-Star basketball players who finished the summer with a 32-3 record.
The team also played in Hoops for Kids benefit for TLC, which helps at-risk children.
Playing summer basketball at an elite level helped Lombardino adjust to playing basketball at a faster pace.
"She is becoming more comfortable at that level; it is different going from playing in 4A to playing in all-star games with the best players in the state," Simpson said. "The main thing I noticed is that she is more comfortable and fluid in what she is doing. She didn't have the points in this all-star game that she had in the first one, not as many rebounds, but she got into the speed of the game quicker."
Lombardino also has gotten to know her roommate, Stevie Schultz of Neodesha High School, while playing for the Scrubs.
With the summer play behind her, Lombardino is eager to start playing for Washburn, a perennial women's basketball power.
"I just want to go in and try my hardest every day so I can earn a spot on the court," she said. "I want to see what happens this first year and hope it works out."
As for the fear some high school athletes have about basketball not being as much fun at the next level, Lombardino disputes the notion.
"No, I don't have that feeling yet," she said. "I like it enough that it will be fun, but I know college is a lot different than high school."
Which is one reason Lombardino spent the offseason playing in all-star games and in pickup games with athletes she will be playing with and against this season.
"A couple of them were on the summer team and played on this all-star team," she said. "It was nice playing with other players who will be playing in college."à¹