Board president: 10,000 more attended county fair this year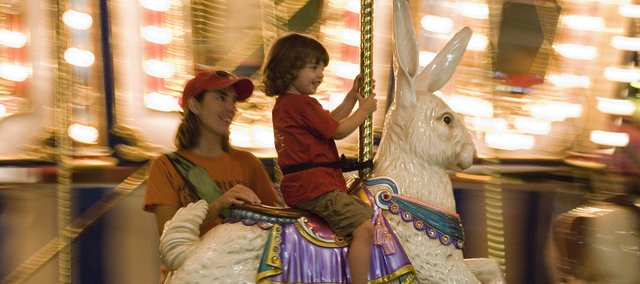 Leavenworth County Fair
Photo Gallery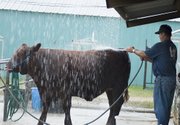 Leavenworth County Fair
This year's fair can be remembered for some noteworthy changes.
For one, the fair officially started a day earlier to accommodate more nightly events including the first ever mud run. And two, the temperature hovered in the mid 80s - a welcome relief from the scorching temperatures from past years that hovered around the high 90s to low 100s.
"The consensus from the board members was the fair was a huge success this year," David Todd, Leavenworth County Fairboard president said Tuesday. "We all want to contribute that to the weather more than anything. When it's nice outside, people want to get out and do things and we just happened to luck out on the weather this year."
Todd said the preliminary numbers show about 32,000 people attended the five-day fair. He said that is about 10,000 more people than average. Even the demolition derby had its biggest attendance ever at 2,200 guests.
The increase in attendance caused a traffic problem Friday night as people who wanted to go to the auction met the people who wanted to go the mud run, which started at the same time.
Todd said next year they will adjust the scheduling to relieve the congestion.
The mud run took over the demolition derby as Friday night's event. It was held north of the Tonganoxie Recreation Commission baseball fields.
The fields and grandstands were packed with spectators eagerly awaiting the attempts of 80 participants trying to quickly go 150 feet in a mud-filled trench.
If the contestants were lucky, they reached solid ground on the other side of the pit. If they weren't so lucky, mud would be flung into the air from fast-spinning tires fruitlessly trying to gain some sort of traction.
Most of the time these drivers wouldn't be able to get out without being pulled by a nearby tractor.
For the more than 2,000 spectators, the best seats in the house were just behind the barrier that separated the track from the audience. But these seats came with a muddy price.
Madison Petitt, 12, quickly solved the problem of getting mud on herself by wiping it off on her 8-year-old cousin Hunter Taylor.
This was the first time they have ever been to a mud run and they both said they liked it.
Dusty Degraffenried, who organized the event, said he was surprised by the turnout from both the participants and the audience for the first-ever mud run at the fairgrounds. The event started a bit late and ended a bit later with the last car making its run around 1 a.m., but Degraffenried said there were still plenty of people still watching.
"It makes it worth it when you have such a good crowd," Degraffenried said. "There is a lot of time and money put into the vehicles and the prize money isn't going to pay for it. They do it for the fun and for the crowd."
He said he would like to have the event again next year if they are invited.
Auction time
As the auctioneer grabbed the microphone and commenced with his speed-talking on Friday night at the Leavenworth County Fair's show arena, the nearby 4-H'ers and FFA members could feel the end of the relationships they had forged with their animals fast approaching.
It's just part of the business they have chosen and most every exhibitor showing off his or her beef steers, rabbits, lambs, goats or hogs was OK with that fact as the 42nd Annual 4-H/FFA Livestock Auction got under way.
Cole Buffo of Lansing has been auctioning off his steers for five years. Now 16, Buffo said his first auction was difficult for him. He had one steer and two heifers, but he worked more with the steer because the others were hard-headed.
"He was close to me and it was hard to see him go," Buffo recalled.
But it has gotten easier for the Pleasant Ridge FFA member as he has gained experience. He now approaches things differently with his steers and heifers.
"My heifers, I usually like to baby. I work with them," Buffo said, noting that he tries not to "baby" the steers as much because he knows they are headed to auction. "It's not as hard to work with the heifers because I know they're gonna go home."
Of course a stubborn steer isn't nearly as hard to part with, Jody Baragary said.
The 13-year-old from Tonganoxie, who was the first exhibitor to show off her market beef steer, said her emotions were different this year.
"The last two years I've been pretty sad because my steers were like a puppy dog," said Baragary of the Happy Helpers 4-H Club. "But this year my steer is really mean so I'm glad to get rid of him."
That's the exception to the rule, though. Lacey Moore of Tonganoxie said auctioning off the animals can be emotional.
"The auction part is not my favorite part but you learn a lot from the experience," said the 16-year-old member of Friendship Valley 4-H Club. "You try not to think about it. It gets emotional but you just have to realize that's their purpose."
That realization and the price of the winning bid tends to ease any pain. Moore was happy when her market beef steer went for $2,000.
Baragary said the satisfaction of a successful auction makes the process more than worthwhile.
"It's really kind of sad but I'd say the best part is knowing how good you did afterwards," she said after her market beef steer went for $3,300.
Kids' tractor pull
On a week filled with 4-H'ers and Future Farmers of America, one of the highlights on Saturday, the final day of the Leavenworth County Fair, involved some distant-future farmers.
Children as young as 2 and as old as 12 hopped on board tiny tractors at the fairgrounds' show arena for the Kids' Pedal Tractor Pull.
Some participants donned cowboy hats, jeans, boots and big, shiny belt buckles for the little show that was a big deal to them and their excited family members filling the bleachers. Others just wore normal, everyday summer clothes, but everyone who climbed onto a pedal tractor shared the same blissful look.
Once the youths received the OK to start pedaling, their legs started pumping like they would on a tricycle or bike and it seemed elementary at first. But as the mini tractors made their way across the show arena, the weights they were towing got harder and harder to pull.
Smiles turned to grimaces and legs turned to rubber for the novice pedalers. However, the experts didn't sweat it; they calmly and confidently pushed all the way to the end of the line.
Win, lose or draw, each participant left the tractor pull with a smile, a goody bag and a round of applause as the PA announcer repeatedly summoned the crowd: "Let's give 'em a hand, folks."
It took close to two hours to get through all eight age groups, but those strong-legged tractor pedalers were awarded for their power and their patience with trophies.
Here are the top three finishers from each age class.
4-and-younger
1. Derek Miller 2. Trenton Miller 3. Cody Kesinger
5 1. Jackson Barnett 2. Daniel Kufaul 3. C.J. Conley
6 1. Brandon Gray 2. Brett Klaman 3. Ben Miller
7 1. Rose Reilly 2. Kruz Wahwahsuck 3. Keith Kelly
8 1. D.J. Klamm 2. Noah Trader 3. Alexander Miller
9 1. Joshua Matzeder 2. Martia Reilly 3. Brett George
10
1. Ethan Chain 2. Audrey Murphy 3. Chastin Curry
11 and 12
1. Maria Miller 2. John Schwinn 3. Carl Hecht
Talent Show
Under a weathered big top tent at the Leavenworth County Fair on Friday night, a few well-placed lights shone on the bright faces of local residents as they tried to beam back even more luminescence with their own star power.
The fair's talent show featured singing, dancing and even a hybrid of storytelling and stand-up from a contestant calling herself "Grandma Moses" as the acts vied for prizes in three age categories - junior (5-12), teen and senior.
It was the singing and dancing that won over the panel of judges as Emma Demaranville won first place in the junior division with her vocals, Jami Lynne took first in the teen group with her song stylings, Amber Peterson won first in the senior dance division and Talette Ford finished on top in the senior vocal category.
Demaranville and Lynne had the highest point totals in their respective age groups and Peterson scored the highest overall total of the evening, netting her a $100 prize.
Peterson, 26, Topeka, wowed the judges with her Irish dance routine. Surprisingly, she has never received formal training in the style, she just picked it up on her own by watching "Lord of the Dance," a personal favorite.
"I really annoyed my parents watching those shows over and over again. And I eventually picked up the steps," she said.
Even though the physical exertion of the dance is difficult (Peterson said it is the equivalent of running a half mile uphill) her love of performance brought her to the fair after doing an Internet search for area talent competitions.
"I enjoy competing and I really enjoy dancing," she said.
A veteran of talent shows and the pageant circuit, Peterson said the way to win over the judges is to enjoy what you are doing.
"You have to have a really good stage presence," she said, "to capture the eye of the judge."
Lynne, 13, Basehor, had some of that stage presence working for her as well.
Even though she has been singing about as long as she has been able to talk, Lynne still was exhilarated when she learned she finished first in her age group. It was "a rush," she said, shaking her hands, still feeling the moment. "An adrenaline rush."
Lynne said of all the contestants, she was most impressed with Peterson: "She was really, really good."
Even though Lynne knew Peterson showed well, she was still holding out hope that she would finish with the night's top prize.
"I was disappointed and happy at the same time," she said. "I was happy for Amber, but I was kind of disappointed that I didn't get it. But that's OK; it's more experience for me."
And for Lynne, that experience was more important than anything.
"This is giving me more and more experience as I move along, so I hope it will take me farther in life," Lynne said.
Turtle Race
Move over Kansas Speedway, the big top at the fairgrounds was the fastest venue for racing sports: sort of.
On Saturday, around 80 turtles competed for the chance to be Leavenworth County's fastest shelled-reptiles. The turtles raced in groups of five around the wooden track. The first turtle to cross the finish line would be placed in the winners' box and awaited the final race.
No. 13, this year's top turtle, belonged to Lauren Willson, 8. Her fast and furious turtle named Tony beat out the competition.
"It's really cool." She said.
Willson said she had walked Tony every day for a week before he started in his first race.
Horse Pull
After the parade 10 teams and about 100 spectators got ready for a full night of draft horse pulling.
The teams, which weighed between 3150 And 4100 pounds, easily pulled their way through the first four rounds, but after the fourth round teams started getting eliminated.
Pete and Barney, aged 11 and 12, were the night's top winners. They, along with handler Fannie Miller, made it past round nine by pulling a 10050 load of cinder blocks - 6,500 pounds more than the weight of the team - 15 feet.
The 15-year horse puller from Clark, Mo., was happy with her horses' performance, but said they have pulled 13,000 pounds before.
"Wherever you go the dirt makes a big difference," Miller said. "If you pull inside of an area it's a lot different then when you pull. Out here the moisture gets into the dirt and makes the pull a little harder."
One of Miller's competitors in the final round was her husband Joe Miller. Joe pulled his 10,350 load 9 feet 9 inches his first attempt, went out of bounds his second attempt and was a foot shorter than his first attempt on his third attempt. He was given third place after being out pulled by a 6,150 pound Osawatomie team.
"I did alright," Joe said. "It's okay, we had fun together."
The Miller's son Ben, was also with them, but did not compete. He said he would start pulling once he was out of the Army.
The family travels to different states throughout the year to compete. Although they get money from winning, Miller said that's not why they do it.
"We don't get rich off of it," she said. "You might get your gas money, but you do it just for the sport."
Pie contest
If eating pies were an Olympic event, Jennifer Ciszewski, 17, could be a gold medal contender. After winning in the youth division last year, Ciszewski moved into the adult class for the 2008 Leavenworth County Fair Pie Eating Contest.
She was completely focused before the contest started; it was just her and her dessert.
Ciszewski jokingly said she trains for the contest by eating her mom's pies and that she had eaten some pie Saturday morning as a warm-up.
In just a few minutes she had devoured the whole pie before her.
Her mother Shelley was watching as her daughter won for a second year in a row.
"I'm so proud," She said. "All of those years yelling at her about table manners... I'm sorry."
Will Gross, 11, won the youth division of the pie eating contest. After the competition he said the contest was his favorite thing to do at the fair.