Economic development coordinator position is filled with Iowa native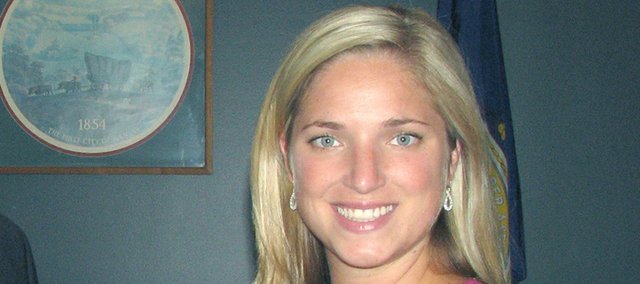 Business retention and expansion in Leavenworth County is now in the hands of a new economic development coordinator.
Iowa native Victoria Rowley, who joined the staff last week, replacing former economic development coordinator Christy Isaacs, was introduced Thursday during the Leavenworth County Development Corp. monthly meeting.
Rowley said she had been actively seeking employment in the Kansas City area, saw the position and began researching the county.
"The statistics and research were very appealing to come to Leavenworth," she said. "And I was impressed by the structure of LCDC."
A bachelor's degree in marketing from Iowa State University, along with Rowley's previous experience with the Iowa Department of Economic Development and the Decatur County Development Corporation, will help her with her main duty of maintaining the business-retention and -expansion program, she said.
"I've already starting to work on identifying some goals and objectives for the program," she said. "I have a lot of people to meet with and a lot to learn about the programs before I go out to the businesses."
LCDC executive director Steve Jack will be working closely with Rowley as she adjusts to her new position. One of Rowley's first steps will be to take a driving tour of the county to get her geographic bearings.
"It was helpful for me to drive the county a lot and just get the lay of the land," Jack said about when he started as executive director in March 2007. "It's just looking at roads and how they intersect with existing businesses."
The business-retention and -expansion program is an outreach for LCDC's partners, including the communities of Leavenworth, Lansing, Tonganoxie and Basehor, Leavenworth County and more than 50 private-sector companies. As economic development coordinator, Rowley will visit businesses and keep tabs on rates, performance, opportunity for expansion and overall contentedness in the county. Some of the main goals, Jack said, are to keep the lines of communication open between businesses and LCDC as well as to increase the number and variety of business the board already serves.
"I'm excited to work with a great team and a very active economic development board," Rowley said. "I'm just really excited to implement a great business-retention program for the county and get a new program in place."
In other business Thursday:
¢ Jack reported on several businesses looking for space in Leavenworth County including a wind-turbine manufacturer interested in both port and rail access. This sparked a conversation on the need for improved rail access in the county.
¢ The Leavenworth County Air and Business Park committee is in the process of making the final selection for consultants on the feasibility study for a regional airport. The decision is expected to reach the Leavenworth County Commission in the next two weeks and if approved, negotiations on the study will begin shortly.
¢ LCDC president Tony Kramer discussed using the comprehensive plans of the county and its component cities as a platform for an upcoming Ingram's Magazine community-profile piece.