Leiker helps Jazz to 2nd place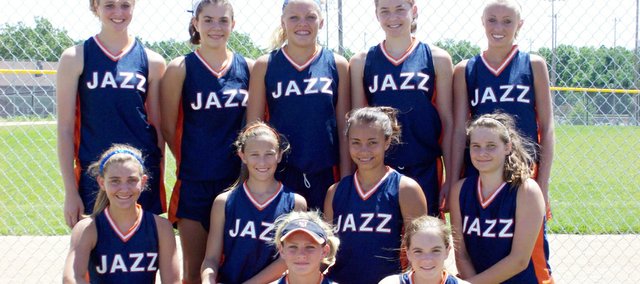 The KC Jazz fastpitch softball team placed second at the USSSA 13-and-under World Series on July 19 in St. Louis.
The Jazz posted a 2-1 record in pool play with a 6-0 victory over the Beach Park (Ill.) Thunder, a 6-2 loss to the Oak Lawn (Ill.) Ice and a 10-5 rout of the Indiana Shockers.
The Jazz won their opening game of bracket play against The St. Joseph (Mo.) Voodoo, 8-3, but then were knocked to the consolation bracket with a 3-0 loss to the Illinois Chill.
Battling their way through the backside of the bracket was no easy task. The Jazz rattled off seven straight victories - three of them by one run - to earn a spot in the tournament finals against the Minnesota Sting. The Sting proved to be too sharp, however, and silenced the Jazz, 4-3.
The Jazz finished the tournament with a 10-3 record and a runner-up finish.
Jazz players are Jillian Jobe, Brooke Grable, Ellie Williams, Micheala Taylor, Cassie Manes, Megan Dike, Samantha O'Brien, Cheyenne Rankin, Bethany Sullinger and Makenzie Skeens. They are coached by Terry Corp, Mike Jobe, Marty Williams, Stuart Sullinger and Basehor resident Lauren Leiker.