Basehor continues annexation plans for Cedar Lakes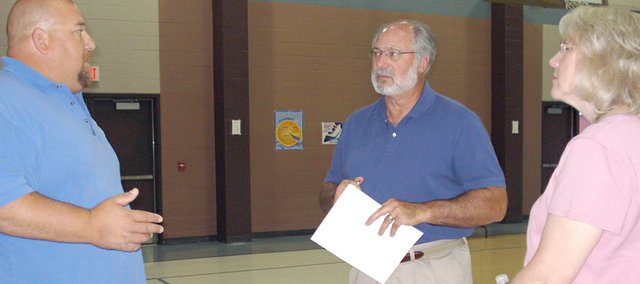 Annexation is part of the city of Basehor's plan for future growth.
But homeowners in the Cedar Lakes subdivision are not happy about their upcoming annexation into the city limits.
City Administrator Carl Slaugh said the primary reason for annexation is that the subdivision is connected to the city's infrastructure.
"The main reason is the city has a certain cost to provide services and one of the biggest of those is sanitary sewer," he said. "Our annexation plan includes annexing all subdivisions that are connected to the sanitary sewer system. We lose a lot of revenue by not having them inside the city limits."
The city hosted an open house Monday night at Glenwood Ridge Elementary School to distribute information and answer residents' questions. Four tables covering the city's services, including administration, police department, planning department and public works were set up around the gymnasium and manned by officials to address individual questions and provide one-on-one time with the residents.
While there is a slew of concerns among residents regarding the annexation, from snow removal and trash service to possible address changes, the largest is the increase in property taxes. The subdivision is currently in the county, which has a mill levy of of 95.0, Slaugh said, while the mill levy inside the city limits is 116. Taxes for a resident living in a $300,000 home will go from about $273 a month to $322, which translates into an almost $600 annual increase. However, the average home in the subdivision is more than $300,000, so some residents could be paying $1,000 to $2,000 more in property taxes per year.
"(My biggest concern is) the amazing increase in taxes," resident Jennifer Espenshade said. "It's huge - just from the initial information and data we've gotten and we're not getting any additional services."
David Espenshade said he and his wife came to the open house to give the city a chance to present its side. He agrees with the city on its ambitious plans for future growth, but thinks other plans for growth should take precedence.
"I agree we should spend our money locally," he said. "I think the city of Basehor should work on getting more businesses rather than taxing their citizens."
Most of the benefit of annexation will be for the city, Slaugh said, and even though residents don't think they are benefiting at all from the annexation, Slaugh said there are some positives.
"They will be represented and have the opportunity to vote in city elections," he said. "They'll have building codes and I think what the city will offer will be an improvement to what the county has to offer in the long run such as the long term maintenance of their streets."
Some residents had concerns about the maintenance of the storm drainage system in the subdivision that goes into the centralized lake, Slaugh said, and the city would take over that responsibility as well.
"Anything that is in the public right of way or in a utility easement, the city assumes that liability," he said.
Basehor Police Chief Lloyd Martley also promoted a proactive and close-knit relationship between the Basehor Police Department and the community as a benefit to residents. While Cedar Lakes is currently served by the Leavenworth County Sheriff's Department, Martley said Basehor Police would patrol the area regularly and this relationship, along with the Basehor Police Department's proximity, would result in quicker response times.
"We're not in any way, shape or form saying we're better than the sheriff," Martley said. "But we're there, we're closer and we respond quicker."
However, even after talking with city officials many residents were still not convinced.
"They say we're going to get better services and I'm just having a hard time finding the services," resident Sharyl Clubb said. "There's nothing more that they're offering us than a quicker response time."
Clubb said that it is already difficult to sell a home in the area and she is worried that tacking on additional property taxes is only going to make it worse.
"I don't see the value," she said. "I think we're driving ourselves out of the market. It's just very frustrating."
Slaugh said he thinks it probably would have been better to annex the subdivision when it initially connected to the sewer system about four years ago.
"At the time, there was not support of the City Council to do it and there were threats of lawsuits," he said. "I think we'll have lawsuits this time, but I think we're pretty well covered in terms of providing all the information we're required to and pursuing things in accordance to the Kansas statues."
This unilateral annexation, Slaugh said, is probably the easiest kind of annexation after voluntary annexation because it's on the perimeter of the city, it's a platted subdivision and it doesn't require permission from the county.
As a part of the city's ongoing annexation plan, other surrounding subdivisions, including Victory Crest and Glenwood Estates, will soon follow suit. Glenwood Estates will require permission from the county, but Slaugh said county officials have been supportive in the city's position that it makes sense to take over other services by annexing once a subdivision connects to the city's sewer system. Future subdivisions that request sewer services will be required to annex.
"They (future subdivisions) will be required (to annex) once they are platted to avoid these kinds of hassles in the future," he said. "I think the City Council recognizes that that is the best time to do it, right from the start, and not have to go back and do it."
A public hearing on the Cedar Lakes annexation will be at 6 p.m. Monday, Sept. 8, at GRES, 17550 157th Terrace. The issue could appear on the City Council agenda for a vote as early as Sept. 15, Slaugh said.