City aims to ease gaming board's concerns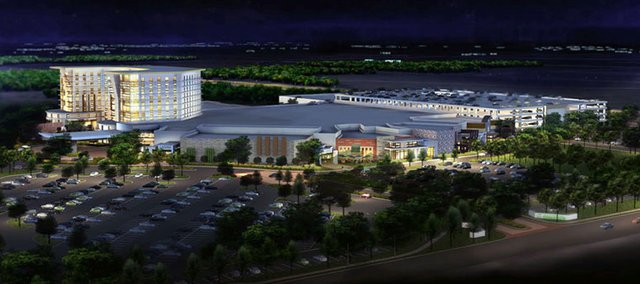 In an effort to ease concerns of the Lottery Gaming Facility Review Board, Edwardsville City Council members adopted a predevelopment agreement with Golden Heartland, Inc., at its meeting Monday.
During Edwardsville's presentation before the review board Aug. 14, the seven-member board expressed concerns that the city had not drafted a formal agreement with Golden Heartland, the company in charge of the Golden Gaming proposal, a 200-acre development with a casino and hotel in Edwardsville and an adjacent retail district in Bonner Springs.
"When we went before the review board questions came up if we had a predevelopment agreement. There were discussions prior, but at that time, we chose not to move forward," City Administrator Michael Webb said of the predevelopment agreement. "Since that time we've been in discussions with Golden Heartland and we believe we've come up with language that allows us to move forward and be responsive to the review board."
Council member Chuck Adams said that the review board made it clear exactly what area their concerns surrounded.
"They were very clear they did not want citizens paying any extra fees," for infrastructure such as streets, sewers and water, gas and electricity lines that are necessary at the development site, Adams said.
He questioned whether the predevelopment draft before the council Monday was strong and clear enough to adequately address the review board's concerns.
"I was looking for a little stronger language," Adams said. "We are so close and I do not want to have them (the review board) come back and say, 'We told you it had to be clear and we didn't see it.' That's my concern with the document the way it sits; it's vague."
Webb said he felt strongly that the document up for consideration was clear enough under the "substantive provisions" section that Golden Heartland is responsible for infrastructure and utilities.
The agreement states in section 'e' of those provisions that Golden Heartland "agrees that it shall construct or cause to be constructed all on-site improvements for roadways, water, sewer and other utilities, storm water and public safety (collectively, 'Infrastructure')."
"I'm comfortable that this predevelopment agreement gets us going for where we need to go," Webb said. "Both parties understand that there is a ways to go to get to final numbers."
Should the Golden Gaming proposal be chosen, the city and Golden Heartland would then have their engineers assess the development site and more concrete numbers could be hashed out in the actual development agreement, Webb said.
Mayor William "Heinz" Rodgers said that some of the vagueness of the agreement comes from the fact that none of the necessary infrastructure currently exists. While he agreed that the predevelopment agreement before the Council didn't "have a lot of teeth" or strong language, he said that was because there are still so many unknowns with the project, adding that was also the reason an agreement was not drafted earlier.
"Clearly this is not at its final stages," Rodgers said. "Its hard to have teeth when you don't know what you're looking at. Development agreements are very important but until you can identify what those issues are and set numbers to those issues its very difficult to come up with anything."
The board is scheduled to vote on the proposals Sept. 18 and 19 in Topeka, after hearing board consultants' reports on each proposal Sept. 2 and 3, and a conference call Sept. 9. The consultants' reports will be available on the Kansas Racing Commission's Web site at ksracing.org.
In other business, the Council:
¢ Approved, 5-0, minutes from the Aug. 11 meeting.
¢ Approved, 5-0, the payment of bills totaling $86,856.
¢ Approved, 5-0, the certifying of the city's 2009 budget. The budget contains a general fund of $3,738,627 with budgeted expenses at $3,690,199, giving the city a surplus of $48,428.
The mill levy is holding steady at 40.427, there were no staff reductions and the ending cash balance of all funds was approximately $55,402.
¢ Confirmed, 5-0, the mayoral appointment of Jared Reed as a new police officer.
¢ Approved, 5-0, an ordinance to amend the city's code of ordinances regarding school zones. The new zone will be located on 104th Street from 100 feet north of the centerline at Fourth Street to 690 feet north of Edwardsville Elementary School. The speed limit will be 20 miles per hour.
¢ Approved, 4-1 with Adams opposed, to renew the contract for snow and ice removal with Dirtworks for the 2008-2009 season.