Lions Club
BBQ

has 'good turnout'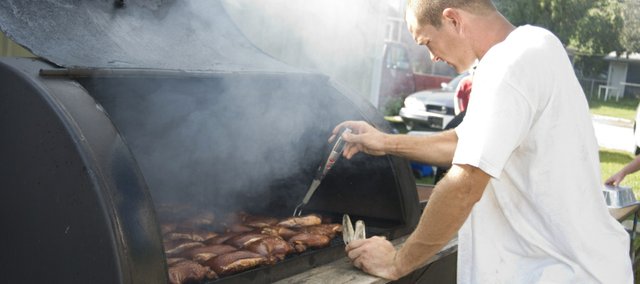 Andy Brazee lifted up the lid to one of the smokers out behind the Linwood Community Library during the annual Linwood Lion's Club BBQ Saturday. The kitchen was out of barbecued chicken quarters, so Brazee hunted around the smoker, sticking a meat thermometer in some of the chicken pieces to see if they were ready.
For the last 24 hours, he and other Lion's Club members had been keeping the smokers at the ideal temperature in order to cook the 100 pounds each of chicken, turkey, brisket and pork needed for the following day's event.
"We had to work in the pouring rain, but it's not so bad," Brazee said. "It's all for the community."
By the time Saturday afternoon rolled around, the sun was out and shinning.
Because of a scheduling conflict, this year's barbecue took place during the same weekend as Bonner Springs' Tiblow Days.
Jim Bishop, head Lion of the Linwood Club, said the two communities needed to work together in the future. Some of the people who regularly cook at the barbecue were instead attending Tiblow days this year.
But even so, Bishop said they had a good turnout.
"We did very well this year," he said. "Everybody had a great time and it seems that things went smoothly. But of course we could say that we could have sold more tickets."
By the end of the day, the club was able to raise enough money to sponsor the local Girl Scouts and Boys Scouts and a scholarship for Basehor-Linwood High School. The club also raised money to help sponsor children who need glasses. Bishop said the club supplies the glasses through Richard Dean's office.