Playoff run goal for
BLHS

in '08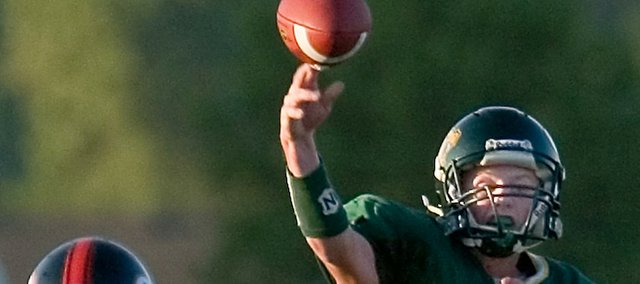 Members of the Basehor-Linwood High School football team played in November last year.
They advanced to the second round of the Class 4A state playoffs last season, a sign of progress that all the hours in the weight room and time on the practice field were paying dividends.
The coaches and players hope to have similar success this season and, potentially, a little bit more.
There is one caveat, though; Basehor-Linwood has to replace some pivotal players from last year's team.
Gone are Travis Inlow, Jacob Schierbaum and Ethan Douglas, among others. Following in their footsteps are 10 seniors who are talented, but untested.
"Some are very good players, but others are first-time starters," coach Steve Hopkins said. "They waited in the wings."
The team's deeper classes are its juniors with 25 and 30 freshmen.
As a result, Basehor-Linwood will be a mix of experienced and inexperienced players this season.
On the offensive line, the Bobcats have to replace four of the five starters from last year including Schierbaum, Douglas and Swede Johnson, all of whom are playing college football.
Zach Ross, center is the team's only returning starter on the line.
"The key front guy is Zach Ross; he has not missed a snap in two years at the center position," Hopkins said. "He is the one returning veteran who does a good job of organizing the young kids. He knows every player's responsibility."
Ross is a teacher on the field.
When teammates are confused with an assignment in the huddle they ask Ross. He is also an example of what Hopkins hopes this year's young players will become. He played as a 181-pound freshman and now is a 231-pound junior, part of the team's nucleus of players.
The Bobcats offensive line will have a mix of seniors, juniors and sophomores.
In the backfield, Basehor-Linwood returns Brandon Leppke at quarterback. He showed the ability to make big plays last season. He also brings a lot of knowledge to the game.
"Leppke understands our offense," Hopkins said of the third-year starter. "He gets us in the right play. If he needs to change the play, he does it. He is a great leader."
Ben Zuk has been reliable on offense for the Bobcats. He is expected to play a pivotal role as a tight end or H-back.
The Bobcats' defensive leader will be Chandler Schaake, a four-year starter. He'll call formations and lead the team.
"Chandler Schaake is the guy to get us lined up on defense," Hopkins said. "He has got to get us in right places and defense."
Basehor-Linwood coaches are evaluating talent at other spots on the field, which could continue into the early phase of the season.
"I feel like after three weeks we will know who is good and who we have to replace," Hopkins said. "I think we can be good by district play. We will take our lumps early and learn on the field."
Basehor-Linwood opens the regular season Sept. 5 at home against Santa Fe Trail. Hopkins said he was pleased with his players' performances on the field.
"We start with Santa Fe Trail, a team we have not played in the four years I have been there," Hopkins said. "Our coaching staff exchanged video of them. In that first game, it is always a guess. Everything is different from year to year. We will probably know what they really do at halftime."