Basehor sweeps
BSHS

, Piper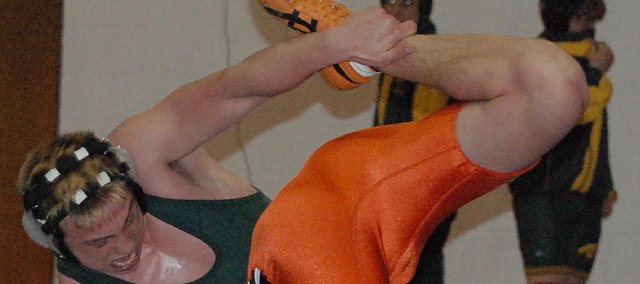 Photo Gallery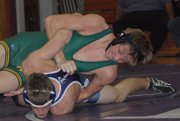 BLHS wrestlers open season
Kansas City, Kan. — As far as early competition is concerned, the Basehor-Linwood wrestling team's season-opening duals Tuesday night at Piper High School couldn't have gone much better.
The Bobcats rolled to a 60-24 victory against Bonner Springs and then rallied for a 42-33 decision against Piper to start the season on a high note.
"I thought we wrestled good tonight, but I thought we had a little letdown against Piper," BLHS coach Scott Neil said. "I thought we should've wrestled a little bit better in a couple weight classes, but it's early in the season and we've got a lot to learn. I'm pretty happy with the first outing."
The Bobcats were nearly flawless against Bonner Springs. After accepting a forfeit victory at 103 pounds, Basehor had one of its few setbacks as Bonner state medalist Caleb Seaton pinned Antonio Ferraro at 112. Then the Bobcats seized full control. Tyler Simpson won by pin at 119 pounds, Symon Seaton followed with a pin at 125 and Tyler Ogden pinned his opponent at 130. Miles Brown (135), Derek Pike (140), Joe Johnson (152), Austin Call (160), Zach Roberts (189) and Justin McLaughlin (215) also pinned their opponents.
Against Piper — which lost 39-33 to Bonner Springs — Basehor made a few mistakes in some of its matches and ended up falling behind in the points midway through the match.
Torrez and Ferro accepted forfeit wins before Piper countered with a victory at 119 pounds. After another forfeit win at 125 by Seaton, the Pirates used three straight pins and a forfeit win to take a 27-18 lead.
Sensing his team was a bit rattled, Neil barked out to Johnson, "Joe, we need a pin." Johnson delivered. He built an early 7-2 lead in his 152-pound match before closing out with a second-period pin that pulled BLHS within three points. Two matches later Chandler King won his 171-pound match by pin and tied the score. Roberts also pinned his opponent, and 285-pounder Zach Wilson closed out the night with a first-period pin.
Neil said nobody stood out in particular on opening night, but he noted that Wilson moved up a weight class to fill in for the injured John Shewman.
"He dug down and got a pin for us and won that last dual for us, so I was real happy with him," Neil said of Wilson.
Basehor will spend the next few days in the practice room ironing out the technique mistakes that were made Tuesday. Then the Bobcats will return to competition at 9 a.m. Saturday at the Kaw Valley League Dual Tournament at Perry-Lecompton High School. The tournament will serve as a preview of sorts for the KVL Championships, which take place Feb. 14 at Bonner Springs High School.