BOCC

votes on 2009 holidays, new motor grader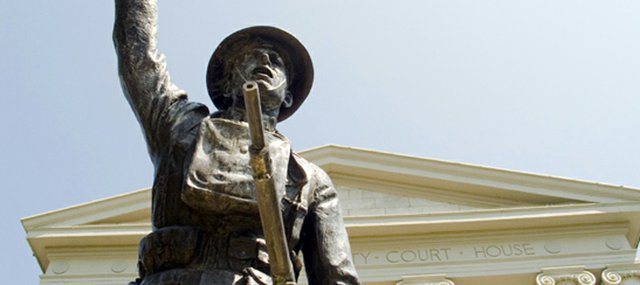 On Thursday the Board of County Commissioners:
• Met with Heather Morgan, county administrator, in an executive session for 20 minutes to discuss non-elected personnel.
• Met with Sheriff Dave Zoellner, Chuck Magaha, emergency management director, and Morgan to discuss security at the Leavenworth County Justice Center.
• Unanimously voted to purchase more KIPHS software licenses to expend an additional $5,290 the Leavenworth County Health Department had received for their Immunization Action Plan by the Kansas State Department of Health and Environment.
• Unanimously agreed to sign a 2008 program letter of agreement from the Kansas University Medical Center for its pediatric residency program and a memorandum of agreement with the Tonganoxie School District that will allow the Health Department to use the Tonganoxie Middle School, if necessary, as a dispensing site. The board did not agree to contract with an outreach worker to perform duties required by the states HIV and STD grants. The commissioners wanted more details outlining the duties of this person.
• Heard from Mike Spickelmier, public works director, on change orders planned for the kitchen of the justice center. He told the board that he and John Forslund, wanted to have a good handle on all of the cost before brining the issue back to the board.
• Unanimously voted to allow for a bid to get a new motor grader. The grader will replace the #23 Motor Grader, which is near its 5,000 hour buyback cap. The bid will ask for a new five-year and 7,000 hour buyback cap to give public works more time on the machines in case they needed it.
• Unanimously approved a resolution to place a stop sign at 258th Street and Kansas Ave.
• Heard from Jason Auvil, solid waste director, about the replacing some lights at the transfer station. Commissioner Oroke said he wanted to see a contract that included a start and finish time and all of the terms spelled out in writing. He said the board has discovered some deals have been made in the past without a contract and thousands of dollars have been spent without a formal agreement.
"When we discovered those situations we rectified them immediately," Commissioner J.C Tellefson said. "They were frustrating and they had gone on for years and years.
• Wanted to wait and see who would be running the courthouse if the board decides not to declare Dec. 26 a county holiday. If it is declared a holiday, the county would pay the employees for the holiday. If it chooses not to make it a holiday, it the board will authorize that day to be a discretionary day of leave for employees. The board also unanimously established the 2009 County Holiday schedule to include New Year's Day, Martin Luther Kind Day, Memorial Day, Independence Day. Labor Day, Veterans Day, Thanksgiving Day and the day after Thanksgiving and Christmas Day.
• Unanimously voted to appoint County Counselor, David Van Parys as KERIT Trustee and Heather Morgan as backup.