Council scrutinizes downtown building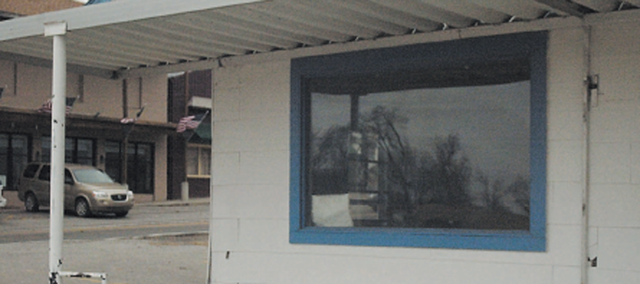 Backed by a critical engineer's report, the Basehor City Council unanimously approved a resolution Monday night requiring the owner of a downtown building to either make major repairs or begin demolishing his structure within 30 days.
City officials cited the vacant structure at 2805 N. 155th St., as a long-standing problem and a danger to public safety.
"It's coming down or you're going to give us plans on how you're going to make it safe," Mayor Chris Garcia told property owner Jeral Cooper during the meeting. "Bottom line. Those are your two choices."
Cooper, who left the meeting before the council voted on the resolution, asked the city for additional time to make a decision on the building, which has served many purposes in its years, including housing the local Veterans of Foreign Wars post, a restaurant and coffee shop.
He said he wanted to use the building for storage and make a more lasting decision on the building in spring 2009. He also said he believed the building, more than 100 years old, would not collapse and could potentially be the site of a future development.
"The building will stand, probably, another 100 years by itself," Cooper said. "I firmly believe that."
However, council members were presented with a structural engineer's report referring to the building as "seriously dilapidated and compromised, caused mainly by a variety of ill-conceived and poorly-designed remodeling attempts, but no less by an on-going lack of routine maintenance."
"In summary," the engineer's report went on, "we believe the building is currently unsafe and should not be occupied. This does not mean that the building cannot be made safe with some effective structural re-design and re-construction. However, let's be clear: In our experience, trying to rehabilitate this particular decrepit building and bringing it up to modern code in structural, electrical and architectural would not be as cost effective and easy as simply tearing the whole building down and starting over."
The report concluded that the building could "possibly collapse" if "ever subjected to a strong wind or heavy snow," and that its instability should require it to be "walled off from the public."
City building inspector Mark Lee presented council members with a background on the building, which cited problems dating to at least June 2007.
Under the council's approved resolution, Cooper has until Dec. 31 to submit repair plans or begin the building's removal, and have it completed within 60 days. The city could take action to repair or remove the structure, if Cooper doesn't meet the deadline.