Street project moving forward
City Council prepping Wolf Creek project for public hearing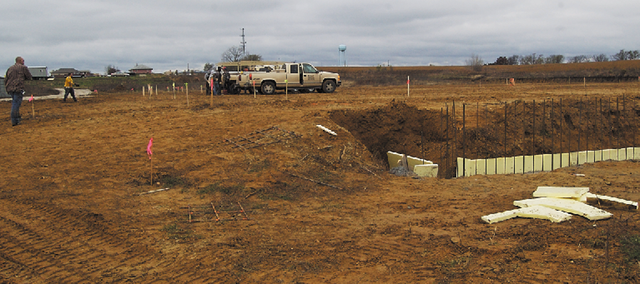 While there was no action taken, a proposed street construction/improvement project was again a primary discussion topic for Basehor city officials Monday night.
City Council members, staff, a developer and the public debated the Wolf Creek Parkway/U.S. Highway 24-40 and 150th Street intersection project. Formal action was not taken during the meeting, the council instead choosing to defer a decision until its next meeting, on Dec. 15.
At that time, the council is likely to schedule a public hearing on the estimated $3 million project, which accounts for about a half-mile of road work in and around Wolf Creek Junction, a 45-acre retail development at the south end of town. The public hearing would take place at the council's first meeting of the new year, Jan. 5, 2009, when a final decision would be made on the project and its funding.
The proposed project entails extending Wolf Creek Parkway — an existing roadway and an access point into Wolf Creek Junction — about 3/8 of a mile east to connect with 150th Street, and improving 150th Street south to U.S. 24-40, about 1/8 of a mile.
Wolf Creek Junction is home to the proposed grocery store, Wolf Creek Marketplace.
The Kansas Department of Transportation has agreed, city officials said, to contribute about $825,000 to the project for construction, land purchase and design work. Remaining money for the project would come from a Transportation Development District, which allows for a 3/4-cent sales tax on all sales within Wolf Creek Junction.
On Monday, council members directed city attorney Patrick Reavy to research the legal aspects of the proposal, and city administrator Carl Slaugh the financial impacts, and reveal their findings at the Dec. 15 meeting, before scheduling the public hearing.
Additional project oversight is what some council members and residents called for Monday night during the meeting.
Council member Jim Washington said he supports the project, but wants city staff to comb through the proposal to "assure the people's interest are taken care of."
"If I'm satisfied that this is done right, legally and properly … I'll vote for it," Washington said.
Basehor resident Dennis Mertz echoed Washington's sentiments. He said he supports the project, but is worried about the city's financial liability if Wolf Creek Junction folds.
"The citizens of this town," Mertz told the council, "need to be reassured the council has their interests at heart."
Council member Keith Sifford said he was confident the project is above board, comments similarly expressed by others on the governing body.
"If I thought there was anything underhanded or (improper) about it, I would have spoken up and said something," Sifford said.
Likewise, Mayor Chris Garcia said he was ready to move forward.
"I think we've mutilated this thing enough," Garcia said. He added, "We just need to let people take a look at it … and then we'll take a vote."
Wolf Creek Junction developer Ed McIntosh said he began the process of putting together the project two years ago and it included a significant amount of time spent coordinating with various officials on its planning. He said the project is "right for us, and right for the city."
"If it's not a good deal for the city," McIntosh said, "I don't want to do it, either.
"We just want to charge through, and get this done."
In other action, the council:
• Approved, 5-0, a memorandum of agreement with the Basehor-Linwood School District for a temporary construction road leading to the city's wastewater treatment plant.
• Tabled renewal of cereal malt beverage license for Casey's General Store, retail liquor license for Shorty's Liquor, and drinking establishment license for Kelley's Bar and Grill until the Dec. 15 council meeting.
• Approved, 5-0, an ordinance establishing guidelines for utility easements.
• Tabled a reimbursement payment of about $79,000 to Leavenworth County for northbound turn lane at 158th Street and U.S. Highway 24-40, a project that was completed in 2004, until the Dec. 15 council meeting.
• Approved, 5-0, scheduling a budget hearing date for an amendment to the Cedar Lakes Maintenance Fund. The hearing will take place at 7 p.m. Dec. 15.
• Approved, 3-2, 2009 wage adjustments for city employees. The 5-percent pay increase is effective the first pay period next year. The wage adjustment also includes a raise for the Basehor Police Department clerk from $10.99 per hour to $12 an hour. Council president Iris Dysart and Council member Jim Washington voted against the increase.
• Approved, 5-0, a resolution approving a plan for the extension of services for annexation of the Cedar Lakes Estates subdivision.
• Approved, 5-0, a resolution setting a public hearing date to consider the annexation of the Cedar Lakes Estates subdivision. The hearing on the proposed annexation is scheduled for 6 p.m. Feb. 9, 2009, at Glenwood Ridge Elementary School.