Bid dropped for Kansas City, Kan., casino, hotel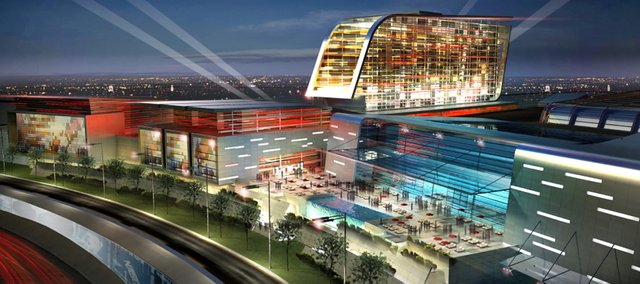 The developers of a proposed state-owned casino and hotel in Kansas City, Kan., have withdrawn their bid due to economic hardships.
In an announcement Friday, Kansas Entertainment, the developers of the proposed Hard Rock Hotel and Casino, said that the decision was made because of the tight credit market and economic crisis currently surrounding the country.
In a letter to the Kansas Lottery disclosed by state officials, Kansas Entertainment President Joe Weinberg said the partners were "prepared immediately to commence development of the $400 million Hard Rock-branded casino.
"However, economic conditions necessitate that we have the flexibility potentially to phase in at a later date the construction of the non-gaming retail and hotel amenities of the project…in the event financial markets do not recover in the near term."
Kansas Entertainment's announcement came just hours before the Racing and Gaming Commission, which would regulate the casino, was to give its final approval of the project. A state review board awarded Kansas Entertainment the Lottery contract in September.
The company, who is in a partnership with Kansas Speedway and The Cordish Co., of Baltimore, plans to submit a new application that would allow developers to build the casino first, and once the economy improves, add the hotel and retail shops. This phasing process would not have been allowed under the company's current agreement.
Kansas Entertainment said they would reapply when the state reopens the bidding process.
The proposed The Hard Rock Hotel & Casino would have cost $705 million and included a 300-room luxury hotel, state-of-the-art casino, retail, dining and entertainment venues, resort amenities and convention facilities. The complex would have been constructed at Turn 2 outside the Kansas Speedway in Kansas City, Kan.
The bid drop will lead to an estimated loss of gambling revenues of $234 million for the casino. There was also an agreement between Edwardsville, Bonner Springs and Kansas City that stipulates the Hard Rock Casino would split 3 percent of gambling revenues, according to a formula, and parcel it out to the local municipalities.
This loss for those municipalities comes to about $1,103,930 for Bonner, $651,807 for Edwardsville, and $5,265,000 for the Unified Government of Wyandotte County/Kansas City, Kan.