Casino drops bid; cites economy as reason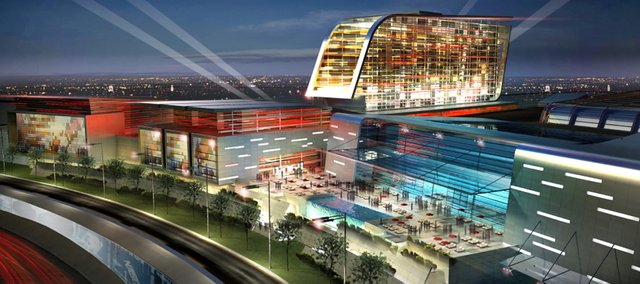 Kansas City, Kan. — Partners in the venture to build a Hard Rock Casino at the Kansas Speedway are waving the yellow caution flag.
Kansas Entertainment LLC, a joint venture between The Cordish Company and Kansas Speedway, announced Friday it had withdrawn its application for Lottery Gaming Facility Manager for the Northeast Kansas gaming zone. The groups intend to re-apply upon the reopening of bidding for the zone.
The decision to withdraw, the groups said, was based on the weak U.S. economy.
In a letter to the Kansas Lottery, Joseph S. Weinberg of Kansas Entertainment said the group was prepared "immediately to commence development of the $400 million Hard Rock-branded casino outlined in our presentations." But, he said economic conditions necessitated phasing in the non-gaming retail and hotel portions of the project. Since Kansas Entertainment's agreement with the state did not permit such a phasing, "We must therefore reluctantly withdraw our Application for Lottery Gaming Facility Manager from consideration for the Northeast Kansas gaming zone."
Weinberg said the Hard Rock still was interested in Kansas City, Kan.
"It is absolutely our intention to re-apply for a license in the Northeast zone, with the phased development plan outlined here, upon the State re-opening bidding for this zone," he wrote.
State and local officials said they weren't giving up on a casino opening in the county.
"Hard Rock's withdrawal is another unfortunate result of the worldwide crisis that has plagued the financial markets and hit the gaming industry especially hard," said Kansas Lottery Executive Director Ed Van Petten. "We will reopen the application process in the Northeast zone and invite applicants to apply with proposals they feel fit the current economic climate. We are confident that we can and will find a manager to develop a destination casino in Wyandotte County."
Unified Government Mayor Jack Reardon said he was disappointed by the news but vowed to continue work toward landing a casino.
"We are determined to have a world class casino built in Wyandotte County," he said.
Bonner Springs Mayor Clausie Smith said he, too, was confident a casino some day open in Wyandotte County.
"So many things could happen," Smith said, "But as far as I can see, I think something will happen."
The decision means, at the least, a delay in the opening of a Wyandotte County casino, along with the tax revenues it would bring.
An interlocal agreement between the Unified Government, Bonner Springs and Edwardsville spelled out how those governments would split 3 percent of gambling revenues. Those revenues were estimated around $1.1 million annually for Bonner, $650,000 for Edwardsville, and $5.26 million for the Unified Government.
Had plans gone to the original timeline, those funds could have begun being received in late 2010, Smith said. Bonner Springs, however, has not yet budgeted any casino funds for use.
"When we see the money coming, then we'll put it in the budget," he said. "It's not prudent business to put it in til we actually see it."
Kansas Entertainment requested a refund of the $25 million privilege fee it paid June 26. The Kansas Lottery is processing the refund through the State Treasurer's Office, Van Petten said.
Along with Friday's announcement, Kansas Speedway officials said they would delay plans for the addition of a road course and potential second NASCAR Sprint Cup Series race. Should Kansas Entertainment be awarded the management contract upon re-application, officials said, Kansas Speedway remains committed to pursuing these projects.
"While I'm disappointed that we had to make today's announcement based on the current financial markets, we remain committed to pursuing the casino management contract through the re-application process," said Kansas Speedway president Jeff Boerger Friday. "In our resubmitted proposal, we will include the road course and potential second Sprint Cup date as part of our application, which will cement Kansas Speedway's position as the Midwest's preeminent racing and entertainment destination.
"While we've delayed these projects for the time being, we remain steadfastly committed to pursuing both the road course and a potential second Sprint Cup date at Kansas Speedway if we're awarded the management contract."
When bidding reopens, Kansas Entertainment's new application will include a phased development plan, along with seeking realignment of a second Sprint Cup date and building a road course in Kansas Speedway's infield, the officials said.
Friday's announcement was the latest in a series of setbacks to bring state-operated casinos to Kansas.
Sumner Gaming Joint Venture (Harrah's) on Nov. 17 withdrew its application for a proposed destination casino in Sumner County. Penn National Gaming Inc. withdrew its application in the Southeast Gaming Zone on Sept. 11.
Bids have been reopened in the Southeast zone, with a deadline of Jan. 21, for applications to be received. The Kansas Lottery Commission will discuss reopening bids in the South Central and Northeast zones when it meets Dec. 11.
Butler National Service Corporation is still planning to build a destination casino in Dodge City in the Southwest Gaming Zone. The Kansas Racing & Gaming Commission has been conducting background investigations of the developer and was to consider final approval of the contract later Friday.