Seaton makes statement with victory over Weller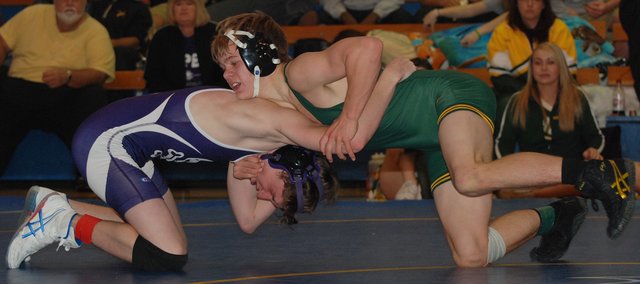 Symon Seaton passed an early-season test Saturday at the Kaw Valley League Dual Tournament.
He defeated Derrick Weller of Piper and finished undefeated on the day in the 125-pound weight class.
Weller placed fourth at state last year at 119 pounds.
Seaton defeated Weller, 3-1, in overtime. In the extra period, Weller attempted to record a takedown on a shooting maneuver, but Seaton blocked it and recorded his own takedown.
The victory meant a lot to Seaton. He lost to Weller last season in head-to-head competition. He wanted to get an advantage in what is likely to be a back-and-forth rivalry this season between the two wrestlers.
The wrestlers should compete against each other throughout the year at tournaments, including the Bobcat Classic, Kaw Valley League tournament, Class 4A regionals and — hopefully — state.
Seaton's overtime points capped an exciting match. Neither wrestler scored a point in the first period. In the second period, Seaton was in the down position and recorded an escape. In the third period, Weller was in the down position and recorded an escape to force overtime.
Seaton pinned all of his other opponents in the tournament. He defeated wrestlers from Piper, Lansing, Turner, Mill Valley and Bonner Springs.
"We will probably see each other a lot, at league, maybe at regionals, at the Classic and state. That is, if everything pans out," he said.
Seaton, who competed in the state tournament last season, said he wanted to win state this year and felt like a year of maturity would help him reach those goals.
"I just think my strength, conditioning and even my mental state has gotten a little bit better," he said.
As a team, Basehor-Linwood finished in seventh place. After compiling a 3-2 record in the pool portion of the tournament, the Bobcats defeated Bonner Springs in the seventh-place dual. BLHS was fourth in its five-team pool.
Lansing defeated Santa Fe Trail in the first-place dual and Tonganoxie beat Turner in a tiebreaker for third place. Mill Valley topped Perry in the fifth-place dual.