Senator opposes prisoner transfers
Sam Brownback: Fort Leavenworth not the right fit for detainees from Guantanamo Bay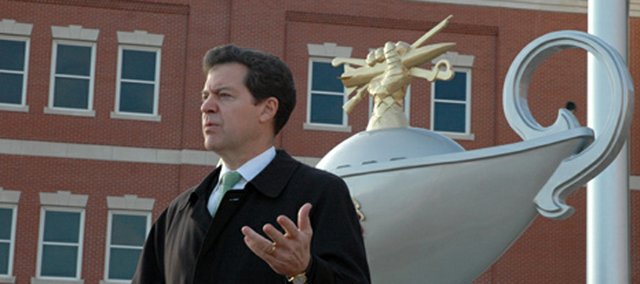 Fort Leavenworth — It's a matter of legality and safety when it comes to U.S. Sen. Sam Brownback's opposition to the transfer of enemy combatants now being held at Guantanamo Bay, Cuba, to Fort Leavenworth.
In a news conference Thursday, Brownback spoke about several reasons why he opposes transferring the prisoners to the military base. Starting out his argument, Brownback stated the idea would be illegal.
"Plain and simply, placing detainees in the disciplinary barracks at Fort Leavenworth with military prisoners would violate federal law," Brownback said.
A Department of Defense directive states, "No member of the armed forces may be placed in confinement in immediate association with enemy prisoners or other foreign nationals not members of the armed forces."
The suggested location of the Guantanamo prisoners would be at Fort Leavenworth's U.S. Disciplinary Barracks. Because of the barracks "campus-style construction," Brownback said, the building "would not support the requirement to separate detainees from inmates."
Another of Brownback's concerns focused on the fact that Fort Leavenworth's facilities were not designed to hold the type of prisoners currently being held at Guantanamo.
With "inadequate security" for detainees surrounding the parameter of Fort Leavenworth and a river and railroad passing through the base, Brownback said that Fort Leavenworth was not the right fit for the prisoners. He also said that the disciplinary barracks were not up to a standard to provide the necessary security.
"This is a medium security facility, and you need a maximum plus security facility," he said. "You have a huge security problem here."
After Brownback's news conference, the senator introduced a bill Tuesday that would prohibit the use of federal funds to transfer detainees from Guantanamo Bay to Fort Leavenworth.
"We should build a facility located and designed with the detainee population in mind," Brownback said at the news conference, adding that he did have a location in mind but would not disclose that detail.
Joining Brownback at the news conference to show her opposition to the suggested transfer was Congresswoman-elect Lynn Jenkins.
Jenkins said she felt the area surrounding the fort was too vulnerable to safety issues. She said the type of detainees that would be placed there would not only make the fort a target for terrorist attacks but the surrounding communities, as well.
With that fear in mind, Jenkins said she encouraged other members of Congress to visit Fort Leavenworth and see for themselves the security issues that included safety of the schools and military families who lived on base.
"As a representative of the people of Leavenworth, any step to make Leavenworth the Guantanamo of the Midwest is the wrong direction," she said.