4-H group bakes goodies for families in need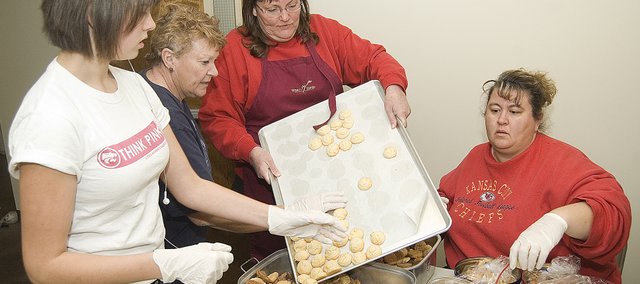 After three hours of baking, not a cookie was stirring, not even a mouse … cookie.
Leavenworth County 4-H Junior Leaders, as well as some parents and other volunteers, gathered Monday in the West Haven Baptist Church basement in Tonganoxie to bake cookies for families in need.
4-H members filled tin after tin with cookies, and on top of every heap of cookies packed inside the tins rested another cookie that resembled a mouse — peanut butter cookie body, two peanuts for ears, a red licorice tail and sprinkles for the eyes and mouth.
Club leader Karen Grammer of Basehor said she found the recipe for the mice cookies in a cookbook and made them ahead of time.
In all, the group had 1,233 cookies Monday ready to be packed into tins — which beats the 2007 total of about 1,200. Although club members' families bake cookies for the project ahead of time, and the dough is prepared in advance of the baking night, most cookies were baked in the large West Haven Baptist Church kitchen Monday.
In total, 87 tins were filled with cookies and will be taken to the Good Shepherd Food Pantry and Thrift Store in Tonganoxie to be distributed to families in need this holiday season.
"They might not have the best Christmas ,and this is something really easy we can do to show them it's really easy to have a good Christmas," said 16-year-old Nikki Gee of Tonganoxie, who is Junior Leaders club president. "This is kind of a serious thing, but you have to have a little fun for it to work and all of us get along really well."
Group leader Michelle McIntyre of Tonganoxie concurred.
"What I think is fun, too, is the kids really made a difference and they know they're helping someone out," McIntyre
In the kitchen
Monday's preparations were a welcome change from the church's previous kitchen, which club members estimated to be three times smaller than the current.
West Haven Baptist Church underwent expansion earlier this year, which included a much larger kitchen.
According to Grammer, the oven in the new kitchen allowed the baking of 250 cookies at a time.
Of course, having a slew of people working in the kitchen at the same time is a project regardless of the kitchen's size.
"You have the people used to having their kitchen and they have to share the space," Gee said. "It's pretty hectic and pretty warm."
Grammer's favorite part of preparations was trying out new recipes.
According to McIntyre, cooking is the Grammer family's specialty.
When the Reno Bobwhite 4-H group has meetings, people are eager to taste the food the Grammers offer.
"What'd the Grammers bring, what'd the Grammers bring?" McIntyre said, describing members' anticipation of tasting the Grammers' food.
"They're my guinea pigs," Grammer explained. "I try new stuff on them."
Tyler Grammer, Karen's son, is a 15-year-old freshman at Basehor-Linwood High School. Cooking runs in the family, as Tyler won top honors at the Leavenworth County Fair a few years ago with a chocolate angel food cake.
Tyler said baking cookies was his favorite part of the process. As the club's historian and reporter, Tyler also was busy taking video of the event.
Getting ready for the project
To pay for supplies for the annual cookie night, Junior Leaders clean the 4-H building at the Leavenworth County Fairgrounds in Tonganoxie monthly. The group receives $50 a month to clean the building.
Junior Leaders have done the cookie project for at least the last seven years, McIntyre estimated, with McIntyre and Karen Grammer serving as group leaders the last three. They said 900 cookies were made their first year and they used to purchase cookie tins. However, those now are donated.
The final step in the process is to take them to the Tonganoxie food pantry for distribution to people in need.
Aaron McIntyre, 14, is the son of Michelle McIntyre. Aaron said the most gratifying aspect of the project is signing cards and slapping them on the tins because at that point, he truly could see the finished product.
"It's hard to explain," Aaron said. "I like it because some people who aren't as privileged, it means a lot more to them that some people would care about them. Because if I was in that situation, I would want somebody to do something like that for me."
Aaron noted he also like the conversation with friends and the occasional Christmas music the cookie night can spark.
And the best part of the evening for his mother?
"Well eating them, of course," Michelle said with a hearty laugh. "I'm not a cook, I'm the taster. They ask me to come and taste."