Young Bobcats pass first test
Tournament championship capped by victory over St. James Academy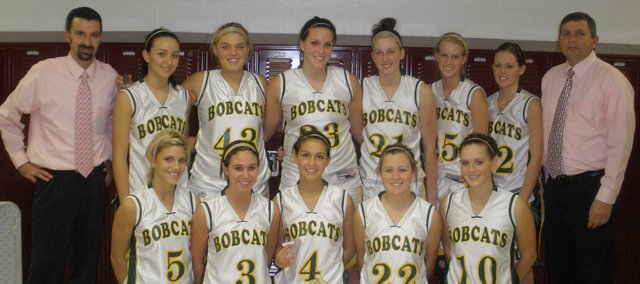 OSAWATOMIE — Basehor-Linwood girls basketball coach Noah Simpson and assistant coach Alex Verbanec wore pink shirts Saturday night.
Tiger Woods wears red on Sunday, and the Basehor-Linwood coaches wear pink for championship games. They wore them for two of last season's three championship games after receiving them as Christmas presents.
Each time, the Bobcats won.
The coaches took them to the Class 4A state tournament in Salina last season, but they didn't get a chance to wear them as the Bobcats were eliminated in the first round.
State reservations might be premature, but the Bobcats played very well in the first quarter of a 47-40 victory over St. James Academy on Saturday night in the championship game of the Central Heights Tournament in Osawatomie.
Basehor-Linwood's defense forced eight turnovers in the first quarter of play. Off the turnovers, the Bobcats were able to score points in transition.
Off the bench, Cassie Bever made a trio of shots from 3-point range in the quarter and the Bobcats built an 18-4 lead after the first eight minutes.
"Before I went in, coach Noah Simpson kept saying 'catch and shoot, catch and shoot,'" Bever said. "That is what I did."
Basehor-Linwood started on a 6-0 run and led 24-4 with 5:01 remaining in the first half. Out of the timeout, St. James Academy scored six consecutive points and did not allow Basehor-Linwood to score another point until Megan Bergstrom dropped in a layup late in the half.
BLHS led 27-10 at halftime.
In the third quarter, St. James Academy cut the deficit to 12 points before Bever banked in a 3-point shot to give her team a 15-point lead.
St. James Academy pulled within 37-30 with 3:21 left in the contest.
Bergstrom stepped to the line and drilled a pair of foul shots. St. James answered with a field goal by Bethany Smith.
At the other end, Basehor-Linwood guard Amber Jeannin stepped to the foul line and drilled a pair of free throws.
St. James Academy's Megan Spradlin made a tear-drop field goal for the Thunder.
With the score 40-34, St. James Academy failed to score on its next possession, missing a field goal and then a pair of foul shots.
Basehor-Linwood answered by drawing a foul and Bren Koontz stepped to the line and made one of two free throws.
St. James Academy made the game tighter with a pair of Smith foul shots.
On the next possession, Basehor-Linwood iced the game with a pair of free throws by Macyn Sanders. The Bobcats later built the lead to 10 points with foul shots from Bever.
Bever led Basehor-Linwood with 15 points. Bergstrom also finished in double figures with 11 points. The Bobcats other scorers in the game were Bren Koontz with 6, Jeannin with 5, and Sanders and Courtney Hooks with 4 apiece.
Bridget Blowey led St. James with 12 points, Smith had 10, Erin O'Brien had 5, Megan Spradlin and Tess Smrt each had 4 and Mica Spradling scored 3.
After the game, Simpson said the early-season victory is a step forward for the program.
"This is huge for our program. One thing we want is for players to step up and contribute for us," Simpson said. "We have had a different (leading) scorer in all three games. This win should build confidence for us and is huge. When we start two sophomores and win, (that) is big for everyone."