Youths honor veterans with wreaths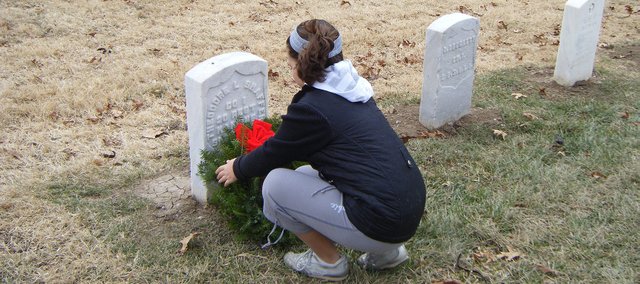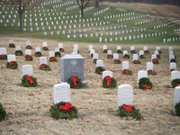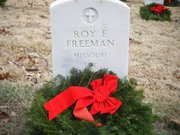 Leavenworth — The wind whipped through the icy air as Maj. Ronald Behm looked out into his audience of fifth-graders Saturday at the Leavenworth National Cemetery.
He beckoned everyone to gather close enough to hear him above the wind's persistent howl.
"We are here today to give thanks to these fallen veterans," Behm said, "And to remember that freedom is never truly free."
Veterans along with friends, family and community members met at the cemetery Saturday to participate in Wreaths Across America, a national honorary event to decorate the graves of fallen soldiers with holiday wreaths.
This year, 450 graves in sections 17 and 18 of the Leavenworth National Cemetery stand with bright green wreaths, thanks to a Basehor Elementary teacher and her fifth-grade class.
When Michelle Ablard heard about Wreaths Across America on a Veterans of Foreign Wars DVD, she knew she wanted to get involved.
"I wanted to let the families of those men and women know that we hadn't forgotten them and all they did for this country," Ablard said.
Ablard wanted her students to know about the sacrifices that veterans made for the people of America and to recognize that their freedom should not be taken for granted.
Wreaths Across America began in 1992 when Morrill Worcester, owner of the Worcester Wreath Company, decided to place his company's excess wreaths on soldiers' graves in Arlington National Cemetery. The Worcester Wreath Company started a tradition that year, which grew into a nationwide campaign to honor America's veterans and educate children about the battles in America's past.
Ablard's class raised money for this year's event through bake sales, student donations and a $209 donation from the VFW. The class raised enough to buy 250 wreaths at $15 per wreath, and Worcester Wreath Company donated an additional 200 wreaths to the cause.
As Saturday's ceremony was coming to a close, the crowd, led by Ablard and her students, moved toward the designated sections of graves. As the wreaths were about to be passed around, Cemetery Director William Owensby gave the students a few instructions. He said he wanted them to place a wreath carefully in front of each headstone and read the name of the person who was buried there.
"I want you to take a silent moment to think about who that person was, and make note of their name," Owensby said.
Owensby later provided the address for a Web site that described all the buried soldiers so the fifth-graders and their families could learn more about the persons being honored that day.
"It was so special," Ablard said. "He really made the kids a big part of what was happening there, and I think they really enjoyed it."
For more information about Wreaths Across America, visit wreaths-across-america.org.