Basketball injury shapes senior's plans
Fully healed from
ACL

tear, Koontz seizes leadership role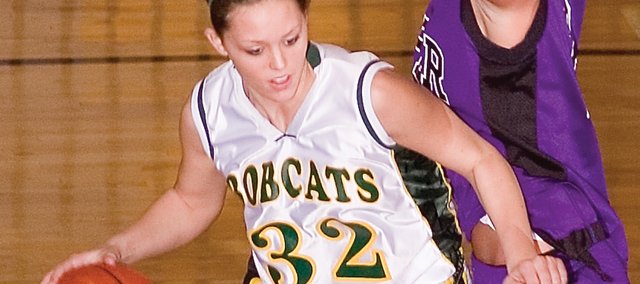 Bren Koontz, a senior on the Basehor-Linwood girls basketball team, isn't sure she wants to play college basketball.
Sure, she loves the sport, having played organized basketball since fifth grade and having been a varsity player since her freshman season, but Koontz is looking toward the future.
She wants to study medicine and hopefully attend medical school after college. She doesn't know if playing college basketball would impede her ability to make the undergraduate grades required for entrance into medical school.
"You have to get really good grades to get into medical school," Koontz said. "I am thinking playing basketball and getting into med school could be really hard."
Koontz said she had always wanted to be a doctor, specifically working in orthopedics or anesthesia.
It is often written that players learn much about life from playing sports. In Koontz's case, though, she may have discovered a calling as a result of an injury.
Koontz tore the anterior cruciate ligament in her right knee in between her sophomore and junior years of high school. The injury occurred during the Bobcats' first pick-up game of the summer.
Following the injury, she had to have her ACL operated on. As a result, she became interested in orthopedics while discussing her injury with doctors and finding out exactly what the surgery would repair and how she would rehab from it.
Following surgery, was six months of rehabilitation
"Honestly, it is not as hard as I thought it was going to be," Koontz said. "It was more mentally tough than physically tough."
As the process wore on, Koontz began to dream about life as a medical provider instead of a patient. She also longed to return to the basketball court.
Koontz returned to the Basehor-Linwood lineup last January in a game against Perry-Lecompton. She played out the season and helped the Bobcats to a 21-2 record and an appearance in the Class 4A state tournament in Salina.
Even though the Bobcats lost in the first round, Koontz still considers playing in the state tournament a great experience. In addition to the game, the players enjoyed staying in a hotel together and experiencing the state atmosphere.
"I want to go back to state this season," Koontz said.
While Koontz is focused on returning to state tournament, after the injury, she is in a position that she is enjoying every game. The injury has also changed her perspective on playing basketball.
She is enjoying every second that she gets to play basketball.
"I love it. The injury reminds you that every game, you don't know if it can be your last," she said.
Koontz also has a different role this season. Being a senior, she attempts to lead the team.
"My role is kind of being a leader," Koontz said. "I am starting to be a vocal leader, but that is kind of not me. I am trying to lead by example."
In leading by example, she attempts to make plays; either through a steal or a big basket that allows Basehor-Linwood to sustain momentum in the game.
In some ways, she is a leader based on time.
Koontz has played varsity basketball since her freshman season. She remembers playing as a freshman and not feeling comfortable in the games, like she was just thrown into the battle.
"I think the last four games of my freshman year I started, and that is when it kind of slowed down," she said.
Now, as a senior, she looks out and sees younger players like Macyn Sanders and Courtney Hooks playing and admires their contributions while being relatively new to the varsity level.
"I know how they feel, it is huge that some players step in. Macyn (and) Courtney have been a huge help to the seniors, handled it and stepped in and done okay," she said.
This season is a bit different for the Bobcats. They didn't play a game before the early-season Central Heights Tournament at Osawatomie High School. The Bobcats won the first three games of the season, and were looking forward to a pair of pivotal Kaw Valley League games last week, but both were postponed when school was called off on Tuesday and Friday because of inclement weather.
"Those are major games. Working hard, coaches looking forward to them … they get canceled and it is kind of a letdown," Koontz said. "We had some good momentum. I think we still have momentum going into games, but you know …"
Basehor-Linwood players are focused on defending the Kaw Valley League title.
"I definitely want to win league, people have counted us out with that. We have heard about that," she said.