Elementary students show compassion for critters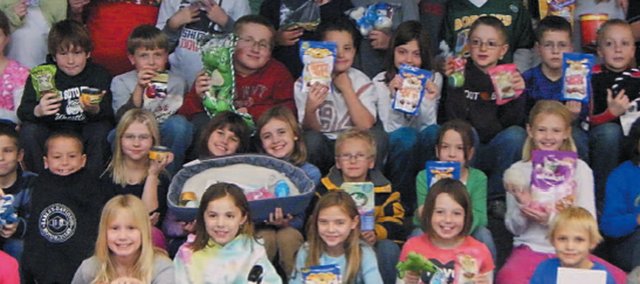 Third-graders at Glenwood Ridge Elementary School are getting in touch with their caring sides.
Last week, the third-grade classes organized a drive called "Caring for Our Critters" to collect donations for animals in shelters. They accepted donations throughout the week and then gave all the items to Wayside Waifs, a not-for-profit humane society in Kansas City, Mo.
The drive was part of a project that involved every class at Glenwood Ridge.
Each grade level at the school was assigned a character trait, and then all the classes in that grade level came together to make a project that represented an embodiment of the assigned trait.
The third-graders were chosen to represent the trait "caring," and Caring for Our Critters was their project.
"We felt this was a great way to show our caring and compassionate side to our furry friends," said Amy Irvin, third-grade teacher at Glenwood Ridge.
As part of the drive, students from all grades at the school brought donations of food, toys, treats and bedding, and the third-graders were in charge of collecting the items for the animal shelter.
A speaker from Wayside Waifs came to Glenwood Ridge at the beginning of the week, on Dec. 15, to talk to the whole school about the importance of being compassionate, humane and responsible. The speech set the stage for the week's critter drive.
"It was a nice assembly, and it gave us this great idea," Irvin said. "We asked the rest of the students to get involved, and we ended up with a lot of donations."
For more information about Wayside Waifs, go online to waysidewaifs.org.