Goodbye 2008 … a year mixed with highs and lows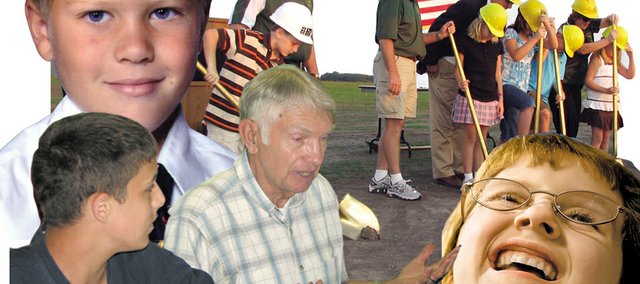 The year 2008 proved to be both joyful and tragic in and around Basehor.
The area started work on a new school, watched a young girl recover from a near-fatal gunshot wound, said goodbye to a police chief, heard allegations about the misconduct of a judge and a teacher, lost and mourned valuable members of its community, solved a murder mystery, survived damaging storms and, through it all, remained a Community of Excellence.
Early in the year, a respected member of the community resigned his position.
At a Jan. 10 reception for outgoing Basehor Police Chief Terry Horner, dozens of residents, police officers and city officials stopped by to recognize Horner for his three years of service and to wish him well in all future endeavors.
The city grieved when Joshua Gaffney, a 14-year-old Basehor-Linwood Middle School eighth-grader, was killed in a vehicle accident the morning of April 27 on Interstate 70 near Sweet Springs, Mo. The Gaffney family was driving to Fort Benning, Ga., to watch Joshua's older brother, Dennis, graduate from Army basic training.
The accident occurred when the Gaffney's vehicle collided with another vehicle and overturned on the right side of the roadway. Josh was pronounced dead at the scene.
Area residents were caught by surprise with a series of damaging storms during the summer. A wave of severe weather hit Leavenworth County early in June. Reports indicated that a tornado touched down near Linwood the night of June 11, and many trees fell in the southern part of the county.
Linwood City Clerk Karen Kane said many businesses along Kansas Highway 32 sustained damage. Kane said her husband saw a funnel cloud touch the ground that night as he was looking at the sky.
One of the more controversial stories was the June announcement that Leavenworth County District Court Judge Frederick N. Stewart faced an official inquiry into allegations of sexual misconduct involving a former member of his staff.
The Kansas Commission on Judicial Qualifications issued a notice on June 30 of formal proceedings outlining the allegations and giving Stewart 20 days to respond.
The complaint alleged that, beginning in 1999, Stewart "engaged in inappropriate conduct" toward the aide, "consisting primarily of harassing conduct, which included inappropriate touching, sexual advances, requests for sexual favors and other verbal and physical conduct of a sexual nature." Stewart later resigned his post and the commission dropped its inquiry.
An eerie feeling accompanied an August story when a body was found on a Basehor resident's land.
Basehor Police Chief Lloyd Martley on Aug. 26 confirmed the identity of the man as Ricardo Castro, 50. Castro, who had committed suicide, had a warrant out for his arrest for the slaying of his girlfriend in mid-August in Orange County, Fla.
On a lighter note, the school district began work on a new grade school in the fall. Basehor-Linwood School District officials, board members, teachers, patrons, students, Basehor residents and city employees gathered Sept. 22 on the farmland owned by Basehor resident Jerry Mussett for the long-awaited groundbreaking ceremony for the Basehor third- through fifth-grade intermediate school.
The happy tone continued when the city received a big honor the next month. Basehor was named a Community of Excellence in October by the Kansas PRIDE program. Basehor was one of 15 communities in the state that was recognized with the Community of Excellence Award for its volunteer services.
The state award was a result of a year's worth of work on behalf of the community, along with a June presentation to a panel of Kansas PRIDE judges by Basehor PRIDE, Basehor Gold PRIDE and Youth PRIDE.
Fall 2008 also marked the greatest stage of a young girl's journey back to good health. Katherine Cook, a 5-year-old Linwood resident, has made remarkable progress in her recovery after being shot in the head in February.
The news of her state was amazing considering that, seven months ago, Katherine lay comatose in a hospital bed at Children's Mercy Hospital after a freak incident while playing in the back yard of her family's rural Linwood home. No one has come forward to claim responsibility for the shooting that injured Katherine.
The winter started with the continuance of a scandal involving a teacher. Floyd M. Rogers Jr., a former Basehor Elementary School fifth-grade teacher, accused of inappropriately touching students. The case dated to 2005. In December, a Leavenworth County district judge convicted Rogers of three counts of attempted aggravated indecent liberties with a child.
The Sentinel selected its top ten stories of 2008, which can be found on page 5A.