Superintendent-to-be has bright plans for future of district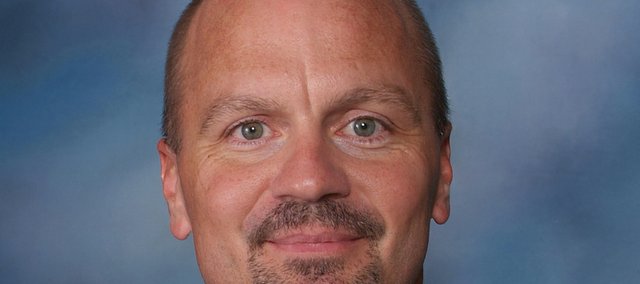 Assistant Superintendent David Howard is ready for 2009.
During the 2009 school year, Howard will replace Robert Albers as superintendent for the Basehor-Linwood school district. While the position will present new challenges, Howard doesn't anticipate any major surprises right away.
"I'm prepared," Howard said. "Dr. Albers has done a great job including me on everything since I started, so I don't see myself trying to tackle any huge issues right into the school year."
This is Howard's second year as assistant superintendent. Before Howard and his family moved to Basehor, he was the superintendent of the Chase-Raymond school district, east of Great Bend. He said his prior superintendent experience would be beneficial when he moved up in USD 458.
"I feel confident," Howard said. "I have skills from the past, and I've learned a lot from being the assistant superintendent."
As superintendent, Howard said he would like to keep USD 458 ahead of the curve when it comes to education. He said he wanted to incorporate more technology in the classrooms and make sure that each school had cutting-edge teaching methods.
"There's always room for improvement," Howard said. "We're doing a great job now, but there's always room to do a little bit better."
In addition, Howard said he wanted to be able to raise the starting salary for teachers, which now stands at $32,000. He said it was something that needed to be done, and he hoped he could find a way to make it work with the recent plans for budget cuts.
"Basehor-Linwood has fantastic teachers," he said. "Really, we have such great people at all the schools. They make all the difference, and I'd like to be able to raise their salaries. It's going to be hard, but I'd like to make it happen."
Howard knows the Basehor-Linwood teachers as the assistant superintendent, but he also knows them as a parent. He has a daughter in sixth grade and a son in third grade, both attending schools in the district. When he and his family arrived in the Basehor-Linwood area, the teachers and community members could not have been more welcoming, Howard said.
"I wasn't sure how easy or difficult the transition would be for my children, but it was absolutely seamless," he said. "They both immediately loved their schools, and we were all so thankful. I've really enjoyed living and working here, and I'm looking forward to the future."
Howard will become superintendent effective July 1, 2009.