Bobcats outhustle
LHS

boys
Rush scores 18, but Lions drop second straight game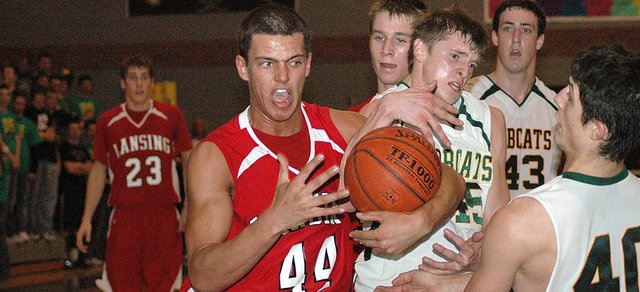 Photo Gallery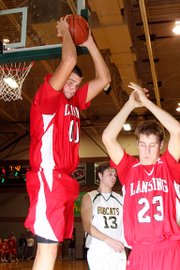 BLHS boys beat LHS
The photos in this gallery were taken by Lansing High student Griffin Davis.
Photo Gallery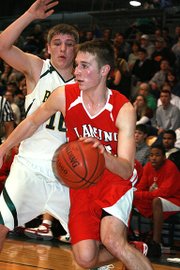 Basehor boys beat Lansing
The photos in this gallery were taken by Lansing High student Dylan Delich.
Photo Gallery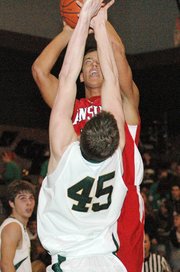 Basehor 63, Lansing boys 53
Basehor — Hustle points were the biggest difference for the Lansing High boys basketball team during its recent seven-game winning streak.
Those same hustle points also have been the difference during the Lions' last two games - both losses. The most recent came as a 63-53 setback Friday night at Basehor-Linwood.
Basehor beat Lansing on the offensive and defensive glass, grabbed almost every loose ball and played better defense. That, more than scoring the higher point total, was the difference in the game according to LHS coach Rod Briggs.
"We didn't get enough lose balls and we gave way too many offensive rebounds," he said. "You know it's a bad sign when you give offensive rebounds off free throws.
"Our mental concentration I didn't think was very good tonight obviously, and that hurt us. When you don't win the hustle points and you don't win the hustle part of the game, you're usually not going to win."
After a sloppy first quarter by both teams where Basehor came out ahead 9-7, the Bobcats turned to leading scorer Tanner Swafford for a boost of confidence in the second quarter. The senior slasher cut to the basket for layups and knocked down pull-up jumpers to the tune of seven points as his team built a seven-point lead. Two free throws by Cody Rush late in the quarter brought the Lions within 25-20 at halftime.
Basehor opened the third quarter on a 13-6 run, and that spurt was primarily the result of the Bobcats' work on the offensive glass. They routinely had second, third and fourth tries, and they punished the Lions every time.
"There's several times we had the ball in our hands, ended up getting it knocked out and then they hit a three," Briggs said. "That was kind of a back-breaker."
Scott Ogilvie poured in eight points in the quarter and Chandler Schaake had seven as the lead grew to 12 points.
Down but not out, Lansing picked up the defensive intensity and finally found a rhythm on offense. By then it was too late, however.
"We did force some steals in the second half, and that's kind of what kept us in the game," Briggs said. "We were never out of the game, but we never totally got over the hump. We kind of built ourselves too big of a deficit early."
The Lions pulled within five points on four occasions down the stretch as Rush scored on put-backs and Clayton Hall knocked down jumpers and scored on drives. The Bobcats had an answer every time, and usually it came at the free throw line. They were nine-for-10 from the stripe in the final three minutes of the game.
Swafford led Basehor with a game-high 21 points on nine-for-12 shooting. Schaake added 15 points.
Rush scored a team-high 18 points for Lansing, Hall had 13, Stephen Didde had 10, Curtis Beall scored nine and Bobby Hauver chipped in three.
The Lions now are 10-5 overall and 5-3 in the Kaw Valley League. Basehor improves to 10-4 and 7-1.
Lansing next plays at 7:30 p.m. Tuesday at home against Bishop Ward.