Wood returns, Lions sweep home duals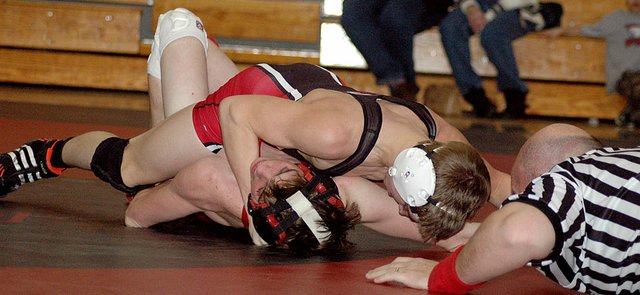 Photo Gallery
LHS wrestling double-dual
It was hard to tell which Lansing High wrestler had the best night Thursday during the Lions' Senior Night double-dual against Bonner Springs and Tonganoxie.
There were the eight Lions who posted 2-0 records during Lansing's 61-9 victory over Bonner Springs and 48-30 beating of Tonganoxie.
There was junior Brian Snodgrass' second-period pin of Bonner's Colin Stirling that had the home crowd roaring with approval.
There was freshman Tyler Terron's riveting come-from-behind victory over Tonganoxie's Travis Adcox, a wrestler who has been state-ranked at 140 pounds in Class 4A for much of the year.
And then there was senior Dennis Wood, who made his season debut after missing the first two months of the season with a back injury. Wood, a state runner-up at 103 pounds last year, won both of his matches at 119 pounds by pin. He needed just 35 seconds to stick Bonner's Brooks Ballou, and he pinned Tonganoxie's Kevin Hamm is 57 seconds.
Wood was happy with the wins, but more than anything he was just happy to be back.
"I couldn't sleep last night," he said. "I was just like, 'Oh, I finally get to wrestle!'"
Wood's fellow senior, Nick Flynn, also went 2-0 on senior night. The No. 3-ranked wrestler in Class 5A at 152 pounds, Flynn actually competed at 160 pounds on Thursday and won with a pair of pins.
Others who went 2-0 for LHS were freshman Spencer Blew (125 pounds), freshman Dillon Scanlon (135), Terron (140), freshman Tyler Baughman (145), junior Grant Hinckley (171) and junior Tyler Strouhal (215).
Snodgrass (189) and freshman Zach Hammer (285) both went 1-1, as did freshman Cory Andrews (152 and 160). Freshman Brett Brown went 1-0 with a victory by forfeit against Tonganoxie.
The dual sweep was impressive for LHS considering it competed shorthanded. Regular 135-pounder Wes Appleget missed the duals with a foot injury and the flu. Freshman 171-pounder Nathan Wessel also was sick with the flu, as were half of the Lions who competed.
Adding to the magnitude of the Lions' performance was the fact that Tonganoxie has finished ahead of LHS in the team standings at almost every tournament this season. Both teams had athletes battling illness, but Lansing coach Ron Averill said he was proud of the way his wrestlers stepped up.
"Neither team was coming in at 100 percent, however both teams had guys that stepped up and competed awesome regardless of how they felt or what they felt like they could do," he said. "That's the nature of what we do. I tell these guys, 'You're the common-day gladiators.' We work ourselves to death in the practice room to go out and seek competition, to go one-on-one, man-on-man. And if you're going to do that, you have to be willing to step out there regardless of if it feels good or if you can go 100 percent, because regardless, when you step out on the mat you're the best one for us.
"We were able to take advantage of that and take advantage of these guys' attitudes."
Lansing will take the day off Friday to give its wrestlers time to rest and recover, and then be back in the practice room Monday to begin preparation for the Kaw Valley League Tournament. The league meet will take place Saturday, Feb. 9, at LHS. Lansing is the defending KVL champion.