Bobcats escape challenge from Lansing girls
Ellis has career-high 17 points, but Basehor's Lombardino overshadows with 26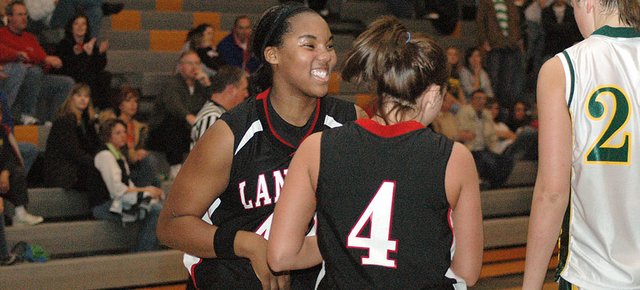 Photo Gallery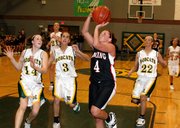 Bobcat girls edge Lions
The photos in this gallery were taken by Lansing High student Griffin Davis.
Photo Gallery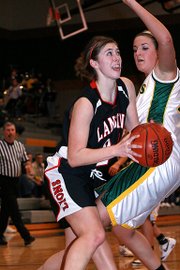 Basehor girls edge Lansing
The photos in this gallery were taken by Lansing High student Dylan Delich.
Photo Gallery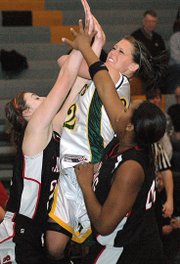 Basehor 47, Lansing girls 45
Basehor — Nobody in the Kansas high school girls basketball world doubts that Basehor-Linwood is good.
The Bobcats' 13-1 record is proof of that, as is their No. 3 ranking in the Kansas Basketball Coaches Association's Class 4A poll and No. 1 ranking in The Kansas City Star's small class metro rankings.
With that being the case, Lansing coach Keith Andrews walked away from his squad's 47-45 loss to Basehor Friday night with one conclusion: The Lions are pretty darn good, too.
"I said, 'You've taken probably a 4A top-four state team to the wire. That's good, because they're a good team,'" Andrews told his players after the game. "I said, 'What that says about you is you can be that way, too.' We can take a 5A team to the wire and maybe make some noise at state. We've just got to work a little bit harder and use this to build on."
The game was far different from the teams' first meeting on Dec. 19 when Basehor pounded Lansing by 19 points.
The Lions were sharp early. They knocked down their first two shots - both layups by junior Alexis Ellis. They made five of their first nine shots and took their largest lead of the game with 1:32 left in the first quarter. That's when senior Katie Nietzke swished a three-pointer that gave the Lions a 14-7 lead.
A layup by junior Brittney Lang with 12 seconds left in the quarter put LHS ahead 16-11, but that's when the offensive momentum came to a screeching halt.
Basehor senior forward Cassie Lombardino scored on an inbounds play at the buzzer, and then the Bobcats held the Lions scoreless in the second quarter. They missed all 16 field goal attempts in the quarter and didn't attempt a free throw. Basehor put up 13 points in the quarter and took a 26-16 lead into the break.
Andrews attributed the offensive inefficiency partially to the fact that a number of the Lions were either playing sick or just recovering from the flu.
"In that second quarter we had nothing, and I think that's when the sickness caught up with us," he said. "We were just gassed."
Whatever the problem was, the Lions found a cure in the second half. They spent most of the third quarter trading baskets. Basehor's Michelle Chrisman scored six of her team's 10 points in the quarter. Ellis pumped in six for Lansing, and Amy Briggs knocked down a three-pointer and a layup. The deficit was seven points entering the fourth quarter, but the Lions weren't finished.
A layup by Nietzke trimmed the deficit to five; a bucket by Ellis made it three; two free throws by Lang brought the Lions within a point and then a turnaround jumper by Lang put LHS ahead, 39-38, with 3:33 left.
Basehor regained the lead on a pair of free throws by Lombardino, and a Lombardino jumper gave the Bobcats a 44-39 advantage. A three-point play by Lang tied the game with 1:49 to go. Lombardino answered with a three-point play of her own, but Nietzke responded with one as well. That tied the game at 45-45 with 1:12 remaining.
Overtime looked likely until Lombardino banked home a turnaround jumper with 7.3 seconds left. Lansing had a chance to tie the game, but Lombardino stripped the ball from Ellis as she attempted to shoot in the lane.
Lombardino scored all 11 of Basehor's fourth-quarter points.
"You (want to) put yourself in a position to win, and that's what we did," Andrews said. "We had a good shot (to win) at the end. We had a good look at it."
Lombardino led Basehor with 26 points on 10-for-16 shooting. Chrisman had eight; Courtney Hooks had six; Brooke Sanders, Ashley Jeannin and Amber Jeannin had two apiece and Bren Koontz chipped in one.
Ellis had a career-high 17 points for Lansing. She also had four rebounds and three steals. Lang had 11 points and five rebounds; Nietzke had eight points; Briggs scored seven points and had five assists and four rebounds, and Amanda Darrow scored two points. Christine Cordes had a team-high six rebounds.
Basehor improved to 13-1 with the victory. Lansing - the No. 9 team in the KBCA Class 5A poll - fell to 10-5.
Lansing next plays at 7:30 p.m. Tuesday at Bishop Ward.