Tonganoxie student 2nd at spelling bee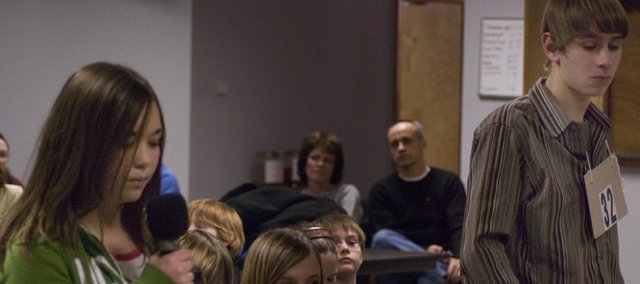 For Rachel Koone, a seventh-grader at Lansing Middle School, winning this year's Leavenworth County Spelling Bee was a simple p-r-o-c-e-d-u-r-e.
Koone won the bee by correctly spelled "procedure," after correctly spelling "privilege," the word Tanner Smith, 14, from the Tonganoxie Middle School, spelled incorrectly.
Winning the bee was exciting news for Koone, who said she was motivated to win Friday's competition at the American Legion Post in Leavenworth because she placed fourth last year.
The win gave Koone the opportunity to try for a regional win at the March 8 spelling bee at Barton County Community College, sponsored by the Great Bend Tribune. She also received a plaque, a $100 savings bond, and, of course, bragging rights among her fellow Lansing Middle School students.
"A couple of them are going to be excited, but a couple are going to be really, really jealous," Koone said.
Smith finished in second place at the county spelling bee, and Marcus Box, 14, of Basehor-Linwood Middle School, finished third.
Smith, who claims science is his favorite subject, was happy he went as far as he did even though he didn't win.
"I kind of froze up at the end, but I was pretty satisfied," Smith said.
About 34 students from around the county participated in the spelling bee.
Priscilla LoPresti, the county spelling bee coordinator, was afraid the higher $99 entry fees for schools would keep some students away, but said she was happy with the turnout.
"I think it's a good experience," LoPresti said. "It builds confidence and poise. It's so different to spell things orally as opposed to on paper."
She was also pleased with the items various businesses donated to give to the students as gift packs.
"I had tons and tons of things to put into the bags, which made it a nice thing for everyone," LoPresti said.
Besides finally finding a home for their regional competition in Great Bend after no longer being able to participate in the Topeka Capital-Journal's regional spelling bee, or with the Olathe News' regional spelling bee, the Leavenworth County Spelling Bee has made another important decision.
After some controversy last year when Molly Oberstein-Allen of Hyman Brand Hebrew Academy in Johnson County, won, LoPresti said the new rule will be that only Leavenworth County students will be able to participate in the county's spelling bee.