County transfer station fees to increase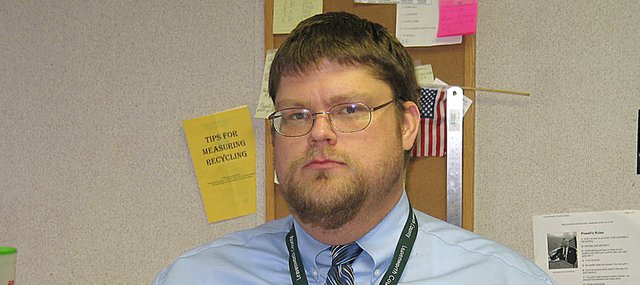 Beginning April 1, users of the Leavenworth County Transfer Station will pay $1 more per ton to dispose of solid waste.
On Monday, county commissioners approved, 3-0, the new tipping fees, which come on the heels of a rate increase, along with a monthly fuel surcharge, from Hamm Sanitary Landfill that went into effect Jan. 1.
Hamm contracts with the county to haul waste from the transfer station to its facility in Perry.
Solid Waste director Jason Auvil presented the new fee schedule, showing $28.50 per ton for in-county standard waste, $36.50 for out-of-county standard waste, $33 for in-county construction and demolition waste and $41.50 for out-of-county construction and demolition waste.
Any Leavenworth County resident can continue to bring noncommercial tires, yard waste, household hazardous materials, recyclables (including aluminum, newspaper, plastic, glass and metal) and appliances (without Freon) to the transfer station east of Kansas Highway 7 off Gilman Road free of charge.
Commissioner Dean Oroke argued that the policy encourages cities to take advantage of "freebies" from the county without contributing to the Solid Waste Department's revenue.
"The only thing we're receiving from those cities are all the free programs we're offering," said Oroke, who ultimately voted in favor of the policy.
Commissioner J.C. Tellefson noted that the department is required to operate at a zero-sum level, but he said that, with increased rates from Hamm, commissioners had two options raise tipping fees or increase the subsidies the county collects in property taxes.
"I'm primarily concerned with the property owners to not increase the burden unduly on them by overly increasing those fees," Tellefson said, adding that his real concern was to keep refuse out of Leavenworth County ponds and creek beds.
In other business Monday, the board:
¢ Heard from Fred Maness, who owns 120 acres of property on 198th Street north of Tonganoxie and has expressed interest in developing an approximately 140-lot subdivision on the land.
Maness petitioned the board for support of a temporary, sewer district for the potential development.
Public works director Mike Spickelmier, said that sound engineering options exist for the development, but added, "The real problem is in the administration of it."
He said when county officials typically create a sewer district in an unincorporated area, they need some assurance from a neighboring city that it will eventually become part of that city's wastewater treatment plan.
Kathy Bard, Tonganoxie assistant city administrator, said it would be "cost prohibitive" to run a sewer line to a subdivision that would be two and one-half miles outside of Tonganoxie city limits at present but added that if a system was built to city code, it could be incorporated in an expanded long-range growth plan for Tonganoxie in the future.
Bard further noted that the Tonganoxie Wastewater Treatment Plant is currently at less than 50 percent capacity and includes plans to eventually double in size.
She encouraged Maness to bring the issue before the Tonganoxie City Council.
¢ Voted unanimously to renew its membership in the Kansas Association of Counties in 2008.