KU

to offer program for war wounded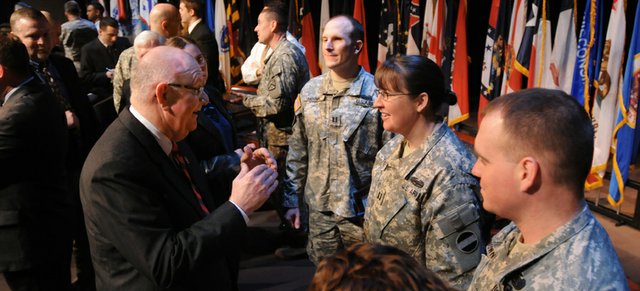 Fort Leavenworth — In just five months, an idea to offer wounded soldiers the chance to obtain advanced degrees at Kansas University moved from concept to reality.
During a ceremony Wednesday at Fort Leavenworth, KU Chancellor Robert Hemenway and U.S. Army Secretary Pete Geren announced the first eight soldiers who would be eligible to receive master's degrees at KU, in exchange for agreeing to serve a few more years in the Army. All eight were wounded in combat; some of them lost eyes, while others lost legs.
"Kansas University and the Army have a partnership that goes back decades," Geren said. "It's a great partnership for both institutions."
Geren expressed surprise that KU and the Army could successfully navigate their extensive bureaucracies to bring the program, the Wounded Warrior Education Initiative, together so quickly. Under a framework announced Wednesday, the eight current and former soldiers will be able to enroll in master's level courses at KU, likely as early as next fall.
The soldiers will pay in-state tuition, covered by the Army, and will be enrolled full time. For every 12 months of education the Army covers, the soldiers will be responsible for three years of active service, often as military college instructors. Those soldiers who have retired, often because of their injuries, will be employed by the Army as civilians for three years for every 12 months of education they receive.
"For those of us at the University of Kansas, it's a privilege and a pleasure to be a partner with the Army in this new program," Hemenway said.
The KU program will serve as a pilot for other universities across the country. It was established about 12 months after a scandal embroiled the Walter Reed Army Medical Center, when it was discovered that wounded veterans were often not getting the care they needed.
The education program, Geren said, was born in part out of the Army's response to that scandal.
"If there's a silver lining in the dark cloud of that incident, it's the awareness of the needs of our wounded warriors that has developed," Geren said. "It was a tragedy for the Army, but some good has now come of it."
The program was conceived by people already working to promote the relationship between KU and Fort Leavenworth's Command and General Staff College, according to KU instructor and former Ambassador to Thailand David Lambertson.
In September, Hemenway took the proposal to Defense Secretary Robert Gates, Hemenway's friend from Gates' days as leader of Texas A&M University. Hemenway left Washington with the knowledge that the Army was committed to the program.
For now, the program will be restricted to eight members, but it could grow.
Participant Capt. Gates Brown, a soldier already stationed at Fort Leavenworth, said he was "pretty overwhelmed" by the opportunity. After completing a degree in military history, Brown hopes to remain at Fort Leavenworth as an instructor.
"I want to go to school and get a better understanding of counter-insurgency and how we've fought it in the past and how we'll fight it in the future," he said.