Lions earn key mid-week victory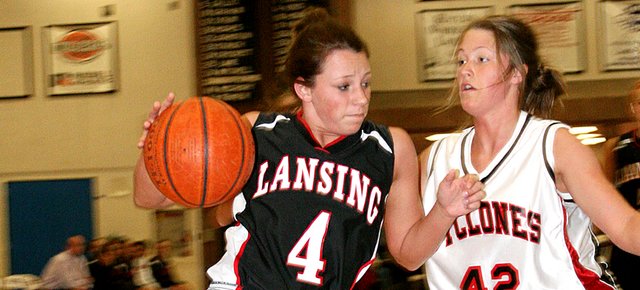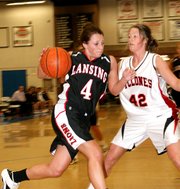 The new year couldn't be going much better for the Lansing High girls basketball team.
After a 3-3 start to the season, LHS is 8-2 in 2008. The latest of those victories came Tuesday night when it disposed of Bishop Ward, 46-39, at Kansas City Kansas Community College.
Lansing led just 21-19 at halftime, but Katie Nietzke buried a three-pointer and Amy Briggs added a pair of buckets in the third quarter as LHS extended its lead. Another trey by Nietzke in the fourth quarter and an eight-for-13 performance at the free throw line by the Lions down the stretch helped put the game away.
Nietzke scored a game-high 14 points, Briggs and Alexis Ellis had 11 apiece, Brittney Lang scored eight and Christine Cordes chipped in two.
LHS coach Keith Andrews praised his team for earning a hard-fought victory just three days after losing a heartbreaker to Basehor-Linwood, 47-45, on Friday. Basehor was ranked No. 3 in the state in Class 4A and No. 1 in The Kansas City Star's small class poll. He also credited his team for not looking ahead to its 6 p.m. Friday home game against rival Tonganoxie.
"It'd be easy to look ahead to Tongie, but the kids responded," Andrews said. "This was a game that we really needed to have, just for a win, for the standings and for being between two tough games. The kids played hard and fought with them, so that's the nice thing about it."
The Lions (11-5 overall, 6-3 Kaw Valley League) protected their No. 9 state ranking in Class 5A, but more importantly they picked up a key victory in the race to claim the No. 1 seed in the substate tournament. Lansing currently leads Shawnee Heights (10-5) by a game in the wins column, and Washington is a distant third at 7-7.
Andrews said the Lions are getting better game by game, and he said they are doing the little things necessary to be a state tournament participant.
"You're seeing people do the right thing, and they have an understanding of what we want to do now," he said. "They're understanding where we want to go with the ball and when we want to go with it. Now (getting to) substate and state are going to come down to sticking the ball in the basket and making free throws, focusing on those little short shots and just being smart. Fortunately, I think we've got a nice edge on that with our seniors and some experienced players."
After playing Tonganoxie on Friday, Lansing closes out the regular season with games against Immaculata on Tuesday, Mill Valley on Feb. 15 and Perry-Lecompton on Feb. 22.
RANKINGS UPDATE
Despite the loss to Basehor, Lansing remained at No. 9 in the Kansas Basketball Coaches Association's Class 5A poll. Wichita Bishop Carroll is No. 1.