No charges yet in death of fetus
Lawmaker says Lansing shooting 'exactly' the sort of case Alexa's Law is is intended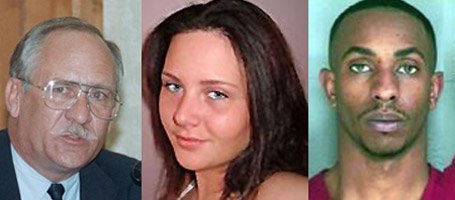 The shooting death of a pregnant woman last month in Lansing would be an ideal case on which to bring charges under the state's new fetal homicide law, said a state legislator who pushed to get "Alexa's Law" on the books in Kansas.
"That's exactly what this law is for," said Rep. Steven Brunk, R-Bel Aire.
Leavenworth County prosecutors have charged Sedale Fox, 23, Lansing, with first-degree murder in the Jan. 22 shooting death of Olivia Jackson. Authorities have said Fox was Jackson's boyfriend and the father of Jackson's unborn daughter.
But Leavenworth County Attorney Frank Kohl has not yet filed any charges in the death of Jackson's fetus.
"We haven't ruled anything in or anything out," Kohl said last week. Tuesday evening, he reiterated there was nothing new to report on the case.
Brunk speculated Kohl may be awaiting Jackson's autopsy to gather more evidence in the case before filing charges under Alexa's Law. Otherwise, Brunk said, "I just can't imagine why you wouldn't prosecute under this law."
Kathy Ostrowski, legislative and research director with Kansans for Life, said the newness of Alexa's Law may be holding up charges in the death of Jackson's unborn daughter.
"I think there's some confusion about the law," Ostrowski said.
The law allows prosecutors to bring murder, manslaughter or battery charges in cases where a fetus is intentionally harmed. Alexa's Law, named after the fetus of a 14-year-old murder victim, has been on the books only since July 1, 2007.
Under Alexa's Law, Ostrowski said, prosecutors don't have to consider age in weighing whether to file charges in the death of the fetus. The law spells out that it applies to fetuses "at any stage of gestation from fertilization to birth."
Both Ostrowski and Brunk said they believe this is the first case since Alexa's Law has been in effect in which it could be applied. The law, however, does not mandate that a prosecutor file charges in such cases.
"It's an option, not a mandate," Ostrowski said.
But to Brunk, it's an option Kohl should consider.
"It would give him two opportunities to get justice, not just one," Brunk said. "It doubles his chances by making these charges."
And, he noted, sentences become more severe upon conviction in a double-murder.
"If there are two murders, it just ratchets up the penalty," he said.
The 2007 Legislature approved Alexa's Law and Gov. Kathleen Sebelius signed the bill into law. Alexa's Law specifies its provisions do not apply to the mother of the unborn child or for any medical procedure, including abortion, performed by a physician or other licensed medical professional at the request of the pregnant woman or her legal guardian.