From planning to solid waste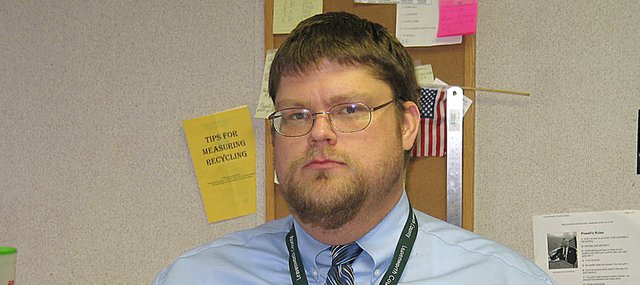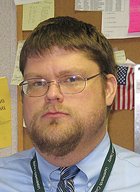 It may be Jason Auvil's second week on the job as director at the Leavenworth County Transfer Station, but he is no newcomer to dealing with solid waste disposal and recycling.
After graduating from Kansas State University with a master's degree in regional community planning and bachelor's in geography and natural resources, Auvil worked in the planning and environmental activities office for the Prairie Band Potawatomi Nation, near Topeka, for five years and then served as planning and environmental director for the Kickapoo Tribe for close to four years.
He said he ran solid waste and recycling centers in both positions.
Auvil, valedictorian of the Immaculata High School Class of 1993, will now head solid waste operations in Leavenworth County. Former director Debbie McRill left in October.
The Solid Waste Department is housed at the County Transfer Station, east of Kansas Highway 7 on Gilman Road. The department charges for disposing standard, household waste, brush, construction and demolition waste, but, Auvil noted, it accepts recycling and large appliances free of charge unless Freon has to be removed and gives away ground mulch to county residents each year.
Auvil said he's excited to take on the new responsibility of managing the department.
"We have a lot of opportunities and the staff is great," he added. "As the population is growing and demands on our natural resources with water and energy, solid waste is a crucial issue that a lot of communities have to face. I'm looking forward to working with all the communities' leaders in solving some of those issues."
During his evenings, Auvil also teaches environmental planning, natural resources and land-use courses at Park University in Parkville, Mo.
"It keeps me connected in the environmental field," he said of his part-time gig, "And I'm able to take real world, practical experience back into the classroom with me."
NAME: Jason Auvil
ADDRESS: Rural Leavenworth
OCCUPATION: Solid waste director
HOW LONG HAVE YOU LIVED IN THE AREA, AND WHAT BROUGHT YOU HERE? "My mother's family is originally from Leavenworth and my father was in the military. We moved around : and came back to Leavenworth County when I was in fifth grade."
WHAT DO YOU LIKE MOST ABOUT THE AREA? "I want to serve in the community I was raised."
WHAT DO YOU DO FOR FUN? "I like history books and books on maps : and working on the computer."
WHAT MIGHT SURPRISE PEOPLE ABOUT YOU? "That I'm an adjunct professor at Park University."
WHAT IS THE BEST ADVICE YOU HAVE EVER RECEIVED? "Don't ask anyone to do something you're not willing to do yourself."
WHAT CLUBS OR ORGANIZATIONS DO YOU BELONG TO? Supporter of 4-H, Knights of Columbus, Leavenworth Chapter of Eagles, American Planning Association, Solid Waste Association of America and the Sons of the American Revolution