State
VFW

honors

BES

teacher
Michelle Ablard to receive award as Citizenship Education Teacher of the Year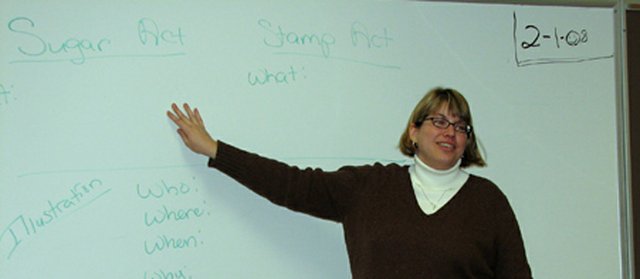 The Veterans of Foreign Wars organization wants to keep citizenship alive in the next generation.
And, Basehor Elementary School teacher Michelle Ablard makes it a regular part of her lesson plans for her students.
The fifth-grade teacher recently learned she was named the Kansas VFW Citizenship Education Teacher of the Year for grades K-5. She previously had won local and district honors.
"It's crazy," Ablard said. "I usually just like flying below the radar, you know? I feel like it's the least I can do to teach a love for our country after what they've (veterans) done for us."
Patriotism has been in Ablard's life for as long as she can remember. Her father served in the Navy for 28 years, and she spent her childhood growing up on military bases. She said she can remember stopping in the middle of the street to salute the flag during the summer when the national anthem played over the loudspeakers every morning.
Now, she tries to pass on what was instilled in her onto her fifth-graders. She teaches American history to all three classes of fifth grade at BES from the Revolutionary War and the Founding Fathers to the different forms of government and special projects.
For Veterans Day, her students created a video explaining what being free meant to them and presented it to the local VFW.
Another recent project involved raising money to place wreaths on the graves of veterans at Arlington National Cemetery. Ablard worked the project into the curriculum, using it as a way to teach the students about the sacrifices soldiers make, but also as a math and estimation exercise.
The students ended up raising enough money for 93 wreaths, and Ablard traveled in December to Washington, D.C., for the wreath-placing ceremony.
The parent group at BES also ended up throwing in some extra money to purchase participation pins for the students.
"They were so excited," she said. "They did it because they cared and they didn't know they were going to get a reward for that."
When the news came that Ablard had received the VFW state award, BES principal Teri Holmes said she wanted to make sure everybody knew about it because she knew Ablard would never tell anybody. Holmes took the time to take the letter to each classroom in the school as well as share it with each of the fifth-grade classes. Later, they congratulated her with a cake and a visit from Superintendent Bob Albers.
"She has absolutely awesome instruction strategies," Holmes said. "She touches the lives of all our fifth-graders before they leave the building."
Holmes and Ablard's co-teachers wrote letters of support to include in her nomination packet for the award, and students and parents also threw in their words of support. Parent Sara Bowers said she's impressed with Ablard because of her hands-on approach and her patience.
"She goes out of her way to do the extra special stuff that teachers don't have to do, but she chooses to," Bowers said. "I think she definitely deserves it."
VFW State Chairman Robin Ray, who was head of the committee that chose Ablard as the K-5 winner, said those extra special things a teacher does are what distinguishes them from the other nominees. By the time Ablard made it to the state level, the pool of nominees had been narrowed significantly. Ray estimated Ablard was about one of four highly qualified teachers up for the award at the state level.
"We look for things where teachers are teaching citizenship education and patriotism," he said. "Often times those teachers are doing a little extra over and above what they have to do."
Another thing that Ablard does to enhance her classroom techniques is travel. She said she is fortunate enough to have a brother who is a flight attendant, so she has traveled all across the country and overseas, mainly to reiterate lessons in her classroom. She travels to Washington, D.C., every year on Independence Day to watch the parades, visit the monuments and collect information for her class. She has also traveled to England.
"She takes the time to not teach just from a textbook," Holmes said. "She makes it very real to the kids through technology, virtual trips on their laptop computers, then pulling in her own experiences because she does travel a lot. She brings back specific things because she knows the curriculum and what they're supposed to remember."
Ablard soon will be presented with her state award at a special local ceremony and she was also entered into the national competition.
"I just feel unworthy because when you think about what they've done for us and they're giving me an award?" Ablard said. "I'm humbled by it definitely."