Students turn ideas into action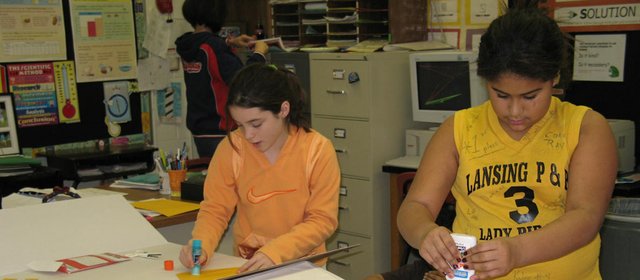 From an idea to a prototype to being used by millions of people, an invention always starts at the same place.
And that's where the fifth graders of Lansing Intermediate School began their journey as well.
The fifth graders are wrapping up a month-long unit on inventions with their showcase Invention Convention, which concludes today. The students have been working on lessons in their classrooms teaching them about past inventors, creativity and the concept of problem solving.
"The projects were designed to get (the students) thinking differently," Pam Jackson, LIS fifth-grade teacher, said.
Some of the activities used to teach student about forming ideas included making small inventions during class time. In Jackson's class, students took an original chocolate chip cookie recipe and had to change it in a way that invented their own cookie. In another activity, students were given a bag, rubber band and straw and asked to invent something new.
"We do activities in class that get (the students) to start thinking like an inventor," Jackson said.
As the month went along, students kept a journal of invention ideas. They included problems they noticed throughout their day as well as possibly solutions. Many of these ideas later turned into their final project, which was to invent something of their own. Students wrote proposals for their ideas and then at home worked on bringing those ideas to life.
"The goal is that they find a problem and come up with a solution," Jackson said.
Once the projects were complete, students brought them to school to present to their classes. They included a backboard that showed how the idea was developed and any testing of the prototype that was done. After the presentations, the students set up their projects in the school gymnasium so that parent's visiting for parent, teacher conferences could look at their work.
The projects and classroom lessons fulfilled a fifth-grade curriculum requirement for the students. They not only learned about history and problem solving skills, but for many, this was their first taste of having a long-term project to complete.
Fifth-grader Brett Dare, 10, invented a beginner's skateboard for his class project. As a skateboarder himself, Dare said he knew what it was like to be starting out and a little wary about his skill level.
Dare's invention assists in one of the most important aspects of learning how to skateboard - stopping. Dare fastened a metal plate underneath the front of his board. The plate is connected to ropes that run up to the hands of the rider so when the rider wishes to stop, he simply lowers the ropes and the plate slows him down.
"I wish I had had something like that to help," Dare said of his own personal experience with learning to skateboard.
So far, Dare said he's enjoyed the invention unit at school, especially when it came to building his own project. Dare said he planned to have a friend test it out before he showed it off at the convention to his classmates.
One of those classmates, Emmalee Edwards, 11, said she also has had fun learning about inventions in school and then making one of her own.
"I really like it because you get to create something out of something else that you never thought you could," Edwards said.
For her invention, Edwards will be making a doorstopper that is positioned higher up on the door, improving upon current doorstops that are located at the bottom. The idea for the higher doorstopper came from watching her grandmother struggle with the doorstop at her house. Edwards said her grandma had trouble bending down, which makes chores, such as taking out the trash, even harder.
Edwards' doorstop will be made of fabric with stuffing inside. The user will place the stop close to the door's hinges eliminating any need to bend down.
"I think it's really good because people who can't bend over need it," she said.
Inventions from other fifth graders like Edwards and Dare can be seen today during the LIS Invention Convention. The student's inventions will be on display in the school gymnasium for family and friends to view.