Ward edges Lansing with late free throws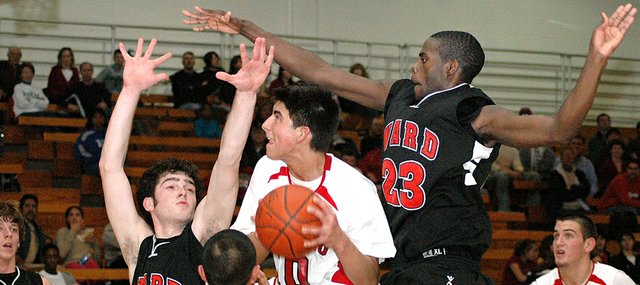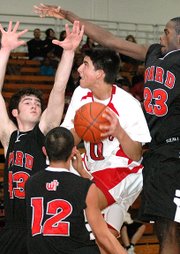 The streak keeps going in the wrong direction for the Lansing High boys basketball team.
After winning seven games in a row, the Lions now have dropped three straight. The latest setback came Tuesday night at Johnsmeyer Gymnasium in a 54-52 loss to Bishop Ward.
The game was close from start to finish. After LHS darted to a 5-0 lead, the score was within three points most of the rest of the way. A pair of free throws by Ward senior James Cox with two seconds left proved to be the difference.
The narrow defeat added to what has been a week's worth of frustration for the Lions. After dropping a two-point decision to Piper on Jan. 29, they lost 63-53 on Friday at Basehor-Linwood.
Second-year LHS coach Rod Briggs said he hopes the skid ends soon.
"We're definitely not peaking too early right now," he said. "So we've got a couple weeks here where we can play better basketball than we are now."
Bobby Hauver scored Lansing's first five points of the game, but the Lions saw that advantage disappear shortly as Ward responded with a 10-3 run. LHS regained the lead by the end of the quarter, and after four lead changes it took a 25-23 advantage into halftime.
Lansing (10-6) received six points apiece from Hauver and Cody Rush in the third quarter, but Cox poured in eight for Ward as the Cyclones continued to hang tough.
After falling behind by three late in the game, a three-pointer by Brian Beall tied the score at 52-52 with 19 seconds left.
On the ensuing possession Cox was fouled with two seconds left. His pair of free throws ended the game.
Cox scored a game-high 24 points. Hauver led LHS with 16 points and Rush had 14. Seven other Lions scored five or fewer points.