Wood back on the mat
Senior shakes off spine injury, resumes quest for state title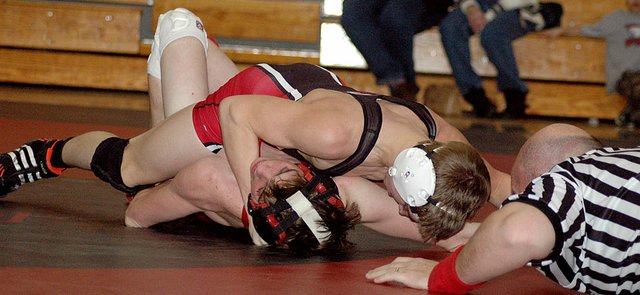 The hours seemed endless.
Dennis Wood tossed and turned all night long Wednesday, Jan. 30, begging the alarm clock to ring and signal that the day was beginning - that he was just a few hours away from wrestling his first matches of the season.
Wood, a Lansing High senior and defending state runner-up, missed the first two months of the season with a back injury.
Two weeks earlier he'd been cleared to practice. Now that he was about to compete, the clock seemed frozen. He couldn't wait.
"I couldn't sleep last night," he said. "I was just like, 'Oh, I finally get to wrestle!'"
"Finally" is an understatement, but it's better than the other word that occupied most of his two-month absence: Never.
There was a time when Wood thought he'd never get to wrestle again. Shortly after practice began in November, he began experiencing pain in his lower back. Soon his mobility grew limited, and the last straw came Nov. 27 at the Red-White Scrimmage when Wood, who'd debated not participating in the scrimmage, was slammed on his back by teammate Spencer Blew during their match.
That was it. Time to see the doctor again.
The diagnosis wasn't good. He had five bulging discs and a herniated disc in his spine.
Nobody's quite sure how it happened, but Wood suggested it could've been a side effect from a car accident he was in during his sophomore year.
Regardless of the cause, the news spread quickly: Wood's season likely was done.
And it hadn't even begun.
"When I first told coach, 'I can't wrestle for a while' : that broke my heart," Wood recalled. "I was in tears. I've been doing this all my life."
LHS coach Ron Averill said he felt awful for Wood.
Just nine months earlier Averill watched Wood battle to a 40-2 record and second-place finish at 103 pounds at the Class 5A state tournament. At the time, both expected to be back in 12 months to bring home a championship.
The coach saw his wrestler's dream begin to vanish.
"It was hard for us," he said. "But it was even harder for him, because this is what he's worked for all along."
Wood said he tried to prepare himself for the possibility that he might not wrestle again. He was written off on the local wrestling message board, and most people affiliated with the LHS wrestling program admitted it was a long-shot for Wood to return.
Although he was unable to practice or compete, Wood wasn't absent from the practice room. He was a daily presence, and he carefully worked with teammates at the lighter weights. He shared knowledge and demonstrated moves, albeit in slow motion and without much twisting. That kept his mind sharp - just in case.
All the while, Wood held out hope.
Then in mid-January he got the news he'd been waiting for.
"When I knew I didn't have to have surgery, I knew I'd be back," he said. "That was the turning point for me."
Doctors cleared Wood to practice. He worked out in the morning before school, and then did conditioning with the team in the afternoon. Eventually he eased back into contact on the mat.
Technically, Wood could have competed Jan. 19 at Holton or Jan. 26 at Baldwin, but Averill elected to hold him out for additional practice and conditioning.
Averill and Wood set Thursday, Jan. 31, as the target for his return. It was a home dual against Kaw Valley League foes Bonner Springs and Tonganoxie, and it gave him two matches he should be able to handle without much risk to his back.
It also happened to be Senior Night.
So there was Wood, tossing and turning all night long, dying to wrestle.
The hours in the classroom trickled like a leaky faucet - slow, and agonizingly annoying.
"I was just ready," he said.
Finally, 5:30 p.m. rolled around. Time to go.
For the first time all season, Wood was introduced with Lansing's starting lineup.
For the first time all season, he went through his regular pre-match warmup. After jogging and practicing his technique, he pulled up the hood on his sweatshirt and his eyes narrowed. A ferocious scowl appeared on his face. There was the pre-match bounce: two hops on the left leg, two on the right, and repeat. His arms dangled at his sides, and his fists shook like a boxer preparing for a fight.
Wood made quick work of his two matches at 119 pounds, pinning Bonner Springs' Brooks Ballou in 35 seconds and Tonganoxie's Kevin Hamm in 57 seconds.
"He's been waiting to come back for a while, and it was good to see him on the mat," teammate and fellow senior Nick Flynn said.
Wood's health wasn't great; far from it, in fact. A hefty back brace limited his mobility a bit, but it provided necessary support.
His conditioning wasn't anywhere near mid-season form either. On a scale of one to 10, with 10 being the best :
"Like : four," Wood said with a laugh, and then added, "Hey, it's better than one."
Wood's debut performance lasted barely a minute and a half, but during that time he showed that a Dennis Wood at partial strength is still better than most wrestlers at 100 percent.
After his matches were done, Wood admitted his back was a bit sore. It didn't help that he also was fighting a bout with the flu.
He said it felt good to be back, but he wasn't getting ahead of himself. The Kaw Valley League meet is Saturday, and then regionals and state if he makes it that far. Even now, that's a big "if."
"We're just taking it one day at a time, because there's nothing set in stone right now that's he's going to be able to compete all the way through," Averill said. "He's been having a few aches and pains, and the one thing we don't want is to risk some permanent injury, so we'll just see how it goes."
"If" is better than "never," Wood said, and he's just happy to have the chance to compete again. He said he will play things as safe as possible, and try to make the most of his opportunity.
"I'm not going to do anything super fancy or anything like that," he said. "It's back to the basics right now. Bring back the old stuff."