Tongie trips Lansing girls
Lions can't maintain double-digit lead in 52-47 loss
Photo Gallery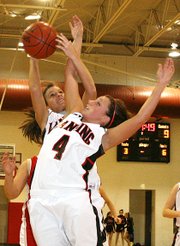 Tonganoxie girls edge LHS
The photos in this gallery were taken by Lansing High student Griffin Davis.
Photo Gallery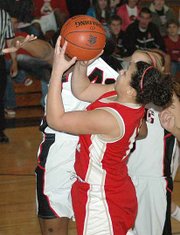 Tonganoxie girls 52, Lansing 47
The key to beating the Tonganoxie girls in basketball is to prevent them from getting second-, third- and fourth-chance scoring opportunities.
Correction: The key is to do it for four quarters.
Lansing got about halfway there, and it was almost good enough for a victory.
Lansing struggled at the free throw line, however, and Tonganoxie did not. That sealed the Lions' fate in a 52-47 loss at Johnsmeyer Gymnasium.
The difference was free throws and rebounding," LHS coach Keith Andrews said. "No qualms about the effort, but we've got to make free throws and we didn't do that."
Lansing (11-6) made just nine of 18 free throws, and Tonganoxie went 18-for-25 from the stripe. THS finished with a 48-43 rebounding advantage despite LHS dominating the glass for the first 10 minutes.
The Chieftains (14-2) scored the first four points of the game on layups by Tracie Hileman and Chrissie Jeannin, but Lansing quickly tied the game on a pair of buckets by Katie Nietzke.
THS scored its next five points at the free throw line and took a 9-8 lead with 2:30 left in the first quarter, but Lansing took control shortly thereafter.
The Lions attacked the basket, played scrappy defense and limited the Chieftains to no more than one shot on each of their possessions during the next four and a half minutes. The Lions went on a 12-0 run during that span and built a 20-9 lead. They attempted just two three-pointers during that run, and they received two layups from Amy Briggs and another from Nietzke. The only glitch was a four-for-eight performance at the free throw line.
Trailing by 11, Tonganoxie called timeout with 6:01 left in the first half. After the pause, the Chieftains began attacking the basket. They scored on four layups and two baseline jumpers, as well as a put-back and some free throws. Meanwhile, Lansing stopped working the ball instead and fired five three-point attempts instead. THS closed the half on an 18-6 run and took a 27-26 lead.
"You've got to be a little smarter than that," Andrews said of his team's shot selection. "You've got to think, 'Hey, we were successful in the first (quarter) going in front of the rim. Why don't we keep doing that?' When we attack the rim, we're much better."
Liz Baska scored on a pair of layups and Jeannin added a layup during a 6-0 Chieftain run to start the second half. The Lions answered with a runner in the lane by Nietzke and a lay-in by Ellis. Later, a three-pointer by Briggs brought the Lions within 35-33, but the Chieftains answered with rebounds and points.
THS led 40-35 entering the fourth quarter, and used a three-point play by Jeannin to take its largest lead at eight points.
Lansing returned to attacking the rim, and slowly clawed back to within two points at 49-47, but it was too late. A free throw by Baska gave THS a three-point lead with 23 seconds left. Nietzke got a good look at a three-pointer from the left corner on Lansing's ensuing possession, but it fell short and Baska iced the game with two free throws.
Jeannin led THS with 13 points, Baska had 11, Shannon Carlin and Veronica Grizzle had nine apiece, Christy Weller scored six and Hileman added four.
Carlin had nine rebounds, Hileman had eight and Baska had six.
Briggs led Lansing with 14 points, Nietzke had 13, Ellis had eight, Morgan Chiles had four, Amanda Darrow and Brittney Lang had three apiece and Christine Cordes had two.
Ellis and Lang had nine rebounds apiece, and Darrow and Cordes each grabbed six. Briggs had five assists and just one turnover.
The loss marked the second time in three games Lansing has fallen to a state ranked opponent in a close game, but Andrews said the Lions aren't looking for close losses. They want wins, he said.
"That's all warm and fuzzy, but that doesn't get you the win against a state caliber team; doesn't move you up in the rankings; doesn't get you that enjoyment at night," he said. "You can feel good that you played with them, but sooner or later we've got to beat somebody good. Whether it was gonna be tonight, or whether it's next week or the first round of state or second round of state or somewhere else, we've got to beat somebody good. If you want to be good, you've got to beat good people. And we're knocking on the door. We just need to kick it down."
Despite the loss, Lansing retained a slight upper-hand in the race for the No. 1 seed in the Class 5A substate tournament because Shawnee Heights lost to Manhattan on Friday night. Lansing has a one-game lead over Heights (10-6) in the wins column. LHS can finish no worse than the No. 3 seed in substate.
Lansing returns to action at 6 p.m. Tuesday at home against Immaculata.