Brothers build gigantic snowman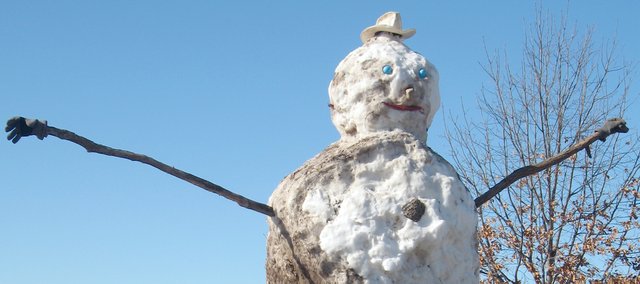 Bonner Springs — The snowman at the home of Theresa and Joe Buehler, 610 N. 134th St., is not your typical snowman. That's apparent to anyone who's seen the thing - it's about twice the height of the tallest of regular snowmen.
The Buehler sons, Jobie, 18, and Justin, 16, started the two-day project last Thursday.
"I was just getting out of school," said Justin, a sophomore at Bonner Springs High School. "He (Jobie) called me and said 'Come on home - I want to build a giant snowman,'"
The brothers began by rolling a ball until they could no longer move it, then used a uniloader -which is a small front-end loader - to make the ball even bigger. After that they realized the large ball of snow was too heavy for the uniloader to lift.
Using the uniloader they pushed the ball onto a truck hood that the brothers use for sledding, strapped it down and pulled it with a four-wheel drive pickup.
The ball rolled off and down the hill when the strap broke, requiring Justin to jump out of the way. Jobie backed up and they pulled it up the hill again.
The uniloader was used to put the three snowballs in place, and to lift the boys up to get the hat on the top ball.
Jobie, who is a freshman at Kansas University, and handled the uniloader, said the project happened because "I was just kind of bored. I wanted to see if we could build a big snowman. It turned out bigger than we expected."
Jobie said the entire project probably took about 12 hours, and used most of the snow in their big yard.
A 13-foot snowman needs limbs bigger than sticks, so Jobie said his father used a chainsaw to cut branches for the arms.
Overall, Jobie said the effort was worth it.
When they were finished, Jobie said they saw people "drive by and stop and get out and take pictures" with the snowman.