Experts advise on meeting Valentine's expectations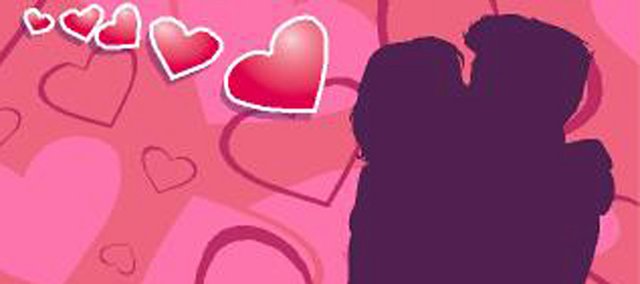 Last year as she waited for her then-boyfriend to reveal her surprise on Valentine's Day, Stephanie Nash began to think, "what if he doesn't do anything?"
All day long she waited almost to the point when she had come to grips that maybe nothing was going to happen. Just then, Ryan Nash, now Stephanie's husband of almost one year, swooped in with a bouquet of flowers and a new ruby ring.
"That was really mean," she said but quickly laughed it off when she considered the thoughtful gift that followed the little prank.
So what do women really want on Valentine's Day? Is it the surprise like the one Nash got or is it an evening filled with elegant dinners and gifts?
For many women, Valentine's Day is when they expect their partners to shower them with praise and attention while many other women look at it as just another day to be with the one they love. Diane Kiper, a licensed marriage and family therapist in Leavenworth, said Valentine's Day should reflect the needs of the individuals involved.
For Nash, the surprise on her Valentine's Day was part of the fun of it, and she said she would have been upset if her husband had actually planned nothing. Her ideal Valentine's Day, however, would include her husband getting her flowers at work and then making reservations for dinner in the evening.
"I think it's the one day that we can say that guys have to be romantic. Although sometimes they don't get that message," she said.
So maybe Nash's husband was slightly off with his surprise plan even though he only had the best intentions in mind. Love is a tricky road to traverse, especially when it comes to making sure everything goes perfectly on a special day such as Valentine's Day. But Kiper said it doesn't have to be, if only couples would communicate.
The language of love
When is comes to love, Kiper said, there are five basic languages that women and men respond to - words of affection, time, acts of service, gifts and touch. Just as people have unique personalities, it's not surprising to find that people answer to their own unique love language.
There are several wrong turns made, Kiper said, that make men and women seem like they are on such different planets when it comes to planning for Valentine's Day, Most of those wrong turns always comes back to miscommunication.
Almost all people enjoy aspects of each of the five love languages, but there is usually one that speaks to them stronger. Kiper said many men identify their own love language and work to fulfill it for their significant other without taking into account their good intentions aren't having the maximum impact they could.
Kiper said the trick of always planning a perfect Valentine's Day is to tune into your partner's particular love language. This can be done by talking to them and paying close attention to the things they respond most excitedly about.
Another problem in the communication department comes from the woman's side. Kiper said many women sabotage themselves on Valentine's Day.
When it comes to planning the "perfect" evening, many women have the idea that if their partners can't get it right on their own, then they must not know them well enough. Kiper said that this kind of thinking would only lead to dashed expectations.
"If there's not good communication, there's going to be disappointment," she said.
Kiper's advice for all those women who want to ensure that their husbands are in tune with their wants - tell them. Vocalize what you expect and why it's important, and then let your significant other take it from there.
"I think women have always wanted to feel like they're number one in the life of the one they love," Kiper said.
Showing you care
For Lynne Pippin, a nurse at Lansing Elementary and Intermediate schools, a perfect Valentine's Day would involve her husband taking the reigns and planning the entire evening on his own.
While she admits that Valentine's Day is never a big event for her relationship, she said just knowing that her husband took the time to plan everything would mean so much. The thrill and surprise of not knowing where the evening would take her would make the day.
"I like surprises, so him saying 'Get dressed, we're going out' would be so exciting," she said. But of course, Pippin didn't forget to drop one more hint, "Jewelry, what woman doesn't want jewelry."
Kiper said once a man is in touch with the expectations of his partner, it's a pretty simple formula to follow from there. It all comes down to "time and attention" she said.
"Valentine's Day symbolizes love, so it's the one day out of the year you're really supposed to focus on each other," she said, but added, "Unfortunately every day isn't that way."
Kiper said it's become a "cultural phenomenon" to put more and more expectations on Valentine's Day. She admits that sometimes acts on Valentine's Day can seem artificial because there is so much pressure on men to make the day bigger and better than the previous year.
If a significant other doesn't show love the rest of the year except for on Valentine's Day, a women is not going to feel fulfilled. That said, however, Kiper still sees value in the idea of making one day out of the year extra special in addition to the usual love that is shown.
In the 57 years that Ada Young has been married, she said she and her husband, Gene, have put less and less emphasis on Valentine's Day. While she can remember the days when Gene would make romantic gestures with Valentine's gifts, she said because her husband does so much "good stuff" all year long, she doesn't miss that time in their relationship.
Ada said her husband is constantly doing nice things for her that Valentine's Day has become just another day for them. She said the secret to staying happy in her marriage despite the lack of grand gestures and gifts is to keep having fun.
"We have a good time," she said. "That's the most important thing in marriage, just to have fun. He's a fun guy and we're game for anything."
The Perfect Gift
For those couples that do celebrate Valentine's Day, much of the pressure on men comes in finding a gift. Kiper said that pressure wasn't necessary because it's not the gift itself but the effort and thought behind it.
"The gifts are symbols," she said. "It's not the things we treasure most. They're just tangible symbols for intangible things."
Jennifer Leitsch, a first-grade teacher at Lansing Elementary School, said every woman wants to feel valued and appreciated by her significant other. Valentine's Day, she said, is the perfect opportunity to share that.
"It's a day set aside to remind you in your busy lives what you saw in each other in the first place that made you want to share your lives together," she said.
For Leitsch, it's the small details that make her husband's heartfelt sentiments on days such as Valentine's, birthdays and anniversaries so special. She said she doesn't have an ideal way to celebrate those events but just likes to feel as though her husband put thought into it.
She said her husband has made past events extra special by adding simple touches. When she moved to Kansas from Boston, she became fascinated with sunflowers. Her husband remembered this and sent her a bouquet of sunflowers at work as a surprise.
"It's knowing that your partner understands you enough and pays enough attention every other day of the year to surprise you in the perfect way just to see you smile," she said.
So when it comes to the big day, trying to figure out what women really want isn't as complicated as many would think. A little time, a little thought and a lot of love is all it takes to make Valentine's Day extra special this year.
Women are looking for a strong emotional connection with their partner, Kiper said, and what all men should remember is that nothing can satisfy that better than a little togetherness.