Radio communications upgrade progresses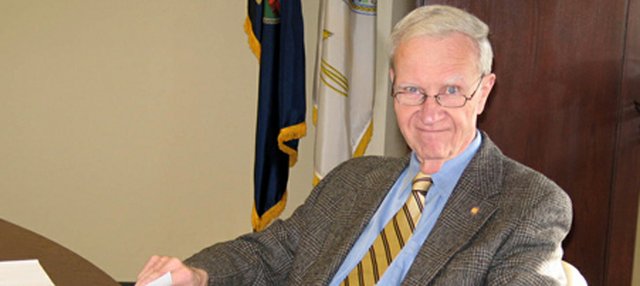 Plans for a multimillion-dollar communications upgrade that will allow emergency agencies within and outside Leavenworth County to directly communicate are progressing.
Thursday, county commissioners voted unanimously to enter into a lease-purchase agreement with the Kansas Department of Transportation for equipment necessary for the project, although the terms for that agreement remain uncertain.
Reporting to the board, County Counselor David Van Parys said KDOT was still working on a bond issue to finance its statewide communications upgrade that the county will hook onto. He said a more favorable bond rating for the state could translate into "a significant cost savings" to the county.
Commission Chairman Clyde Graeber asked whether a lease-purchase agreement would prevent the county from leasing additional space on the towers to other entities.
Van Parys replied that although those requests would be subject to non-interference agreements and proper loading on the towers, the agreement "will not prevent that."
Another issue will be establishing how many frequencies are needed and determining what talk groups or subsets of emergency service providers can access those frequencies in the event of a major catastrophe, Van Parys said.
Van Parys said an 18-month warranty would cover all maintenance and repairs.
Also included in the agreement are plans to connect two T-1, fiber-optic lines from the Bonner Springs tower to the state master site in Salina, at a cost to the county of $1,100 per month.
Tom Lynch, a consultant hired as an adviser for the project, estimated a standard rate at $800 apiece for the lines, demonstrating the savings to be had by contracting with the state.
Lynch said contracting through the state for all equipment was a benefit to the county.
"The state has 29 technicians on their payroll," Lynch said, adding commissioners would have to hire at least four new employees if they wanted to maintain the system themselves.
Towers and a microwave background for the communications project last estimated at $12.8 million should be in place by October, Van Parys said, with dispatch equipment and radios acquired shortly thereafter.
In other business Thursday, the board:
¢ Voted, 2-0 (Commissioner J.C. Tellefson was not present), to make The Leavenworth Times the official newspaper for Leavenworth County.
The Times' bid for publishing the county's legal notices was $2.50 per column inch, compared to a $2.92 per column inch bid from The Mirror.
Although county staff noted less-than-excellent service from The Times and "zero errors in the past two years" with The Mirror, the commission voted to go with the low bid.
¢ Approved, 2-0, a revised leave policy for county employees. According to the policy, employees must have at least 80 hours accumulated in their "leave bank," before requesting time off under the federal Family and Medical Leave Act (FMLA).
Under FMLA, employers must grant eligible employees up to 12 weeks of leave during any 12-month period for a childbirth, to care for an immediate family member or because of a serious health condition.