BES

students cook up chili in 'funraiser'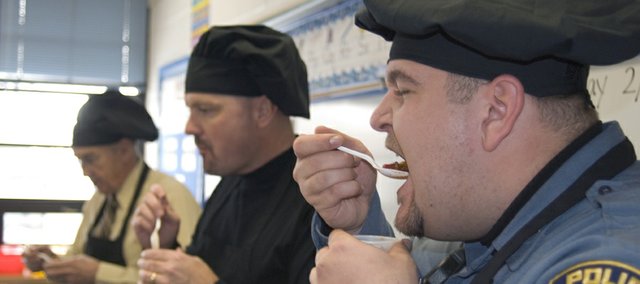 For the second year in a row, students from Basehor Elementary School were able to combine their love of bingo with their talented culinary skills in this year's Chilingo, a half bingo, half chili cook-off competition.
Twenty-seven classrooms prepared their own secret-recipe chili to compete for a chance to win the chili pot trophy for a year and bragging rights for some amazing chili for this year's "funraiser."
"So many times it's about raising money, but this time we just wanted it to be about the fun," said BES Principal Teri Holmes.
The chili judging began Thursday afternoon. Wearing their official 2008 Chilingo black aprons and chef hats, the three judges, Superintendent Robert Albers, Assistant Superintendent David Howard, and Basehor Police Officer Erik Lynnes, went from room to room trying the savory fare each class had to present.
Their judging criteria?
"Taste," Albers said. "Just taste."
Howard added that their scrupulous judging was not swayed even when they got bribes like pieces of cornbread or brownies.
Some of the more interesting concoctions were a white chili with chicken, a chipotle and chocolate chili and the first-place-winning deer-meat chili.
After not winning in last year's competition, fifth-grade teacher Diana Manford decided her class was going to try something a little different. Manford's fiance, Michael Murphy, killed a deer, and Manford used the extra-lean meat as her chili's secret ingredient.
Manford said the boys in her class were all for trying the alternative meat.
"It was good," said 11-year-old Caleb White. "It had huge chunks of deer in it."
In second-place was Heather Osterhouse's second-grade class, and in third-place was Jean Yatez's first-grade class.