Body Walk wows
GRES

students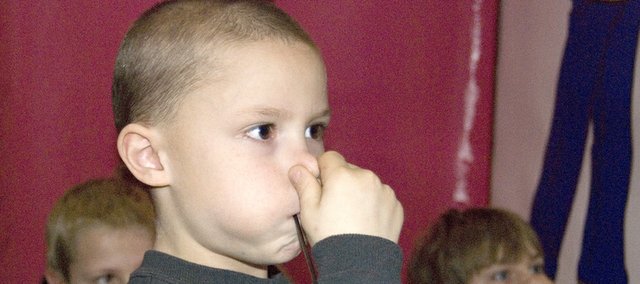 Glenwood Ridge Elementary School students got to take a special trip Friday.
It wasn't a field trip to a regular place like a museum or a zoo. These students got a special trip through the human body, where they could see its inner workings up close.
"You could spend a day talking about the human body, but if they can see it firsthand, it's much more exciting," said Mary Kamm, GRES library aide and chairperson for the Glenwood PTO. "We've had first-graders look at the display and say, 'This is the coolest thing I've ever seen.'"
This is the second time the Body Walk, sponsored by the Child Nutrition and Wellness, Kansas State Department of Education, has come to GRES. The traveling display teaches kids about good nutrition, exercise and avoiding tobacco.
The 40-foot exhibit starts inside the brain, where students are taught about making the right choices in nutrition and exercise, or as the Body Walk's mascot, the Power Panther, says, "Eat smart and play hard."
After coming out of the brain, children are taught about the new U.S. Department of Agriculture food pyramid and given a card that represented a piece of food in a food group. The card also told the students about the nutritional value of food.
This was Allison Matthews' favorite part of the exhibit.
"I liked seeing the new food pyramid," Matthews said. "I was spaghetti."
After being given the cards, students make their way into the mouth. There they learn about proper hygiene and the dangers of tobacco use. Afterwards they work their way through the stomach and small intestine, where they learn about the digestive system.
Olivia Sibert, was amazed at how long the small intestine could be.
"We got to measure how long it was," she said. "It was 20 feet."
From there they enter the blood stream, which takes them to the heart, where they learn about how exercise makes the heart stronger and how fatty foods can clog arteries.
In the lungs, the students are told about the dangers of smoking. For this display, volunteers show the students healthy lung tissue, and lung tissue from a smoker. After the lungs, the students are taught about the skeletal and muscular system, then the skin.
Finally the students work their way out of the body and into a pathway that reviews everything they had just learned.
Judy Salyer, Body Walk manager, said it was important for children to learn about bettering their health because obesity was such a major health concern.
She was worried that too many children were just watching television or on the computer and eating too much sugar and not going outside to get enough exercise.