Lansing girls move step closer to No. 1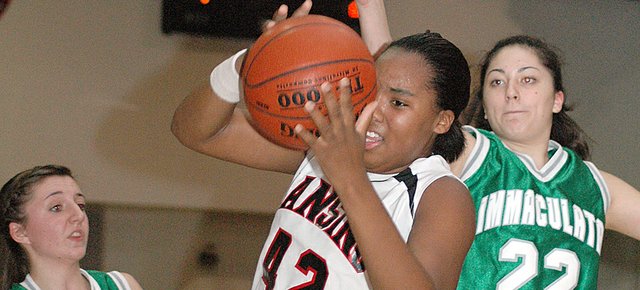 Photo Gallery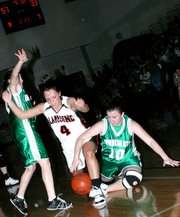 Lansing girls rout Immaculata
The photos in this gallery were taken by Lansing High senior Griffin Davis.
Photo Gallery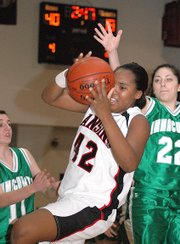 Lansing girls 63, Immaculata 40
The Lansing High girls basketball team wasted no time taking the drama out of its rivalry game with Immaculata on Tuesday night.
LHS pitched a 15-0 shutout in the first quarter before coasting to a 63-40 victory at Johnsmeyer Gymnasium.
Lansing's victory helped elevate the drama in the race for the No. 1 seed in the Class 5A substate tournament, however. The Lions' 12-6 record gives them the edge for the top spot, but close on their heels are Shawnee Heights (10-6) and Washington (8-7). Based on schedules, Shawnee Heights has the roughest road remaining, whereas Washington likely won't lose another game.
That's why Tuesday's game was so significant, and the final result was the only reason LHS coach Keith Andrews was smiling after the game.
"I told the girls, 'we want to take care of our business. If we do what we do, we'll be fine, but we've got to be focused,'" Andrews said.
Lansing was sharp for most of the first quarter against Immaculata. The Lions shrugged off a few sloppy early possessions and then used a 12-foot jumper by Amanda Darrow to ignite a 15-0 run. Katie Nietzke buried three three-pointers during that stretch, and the Lions forced 10 quick turnovers with their full-court press.
The final three quarters were another story. Immaculata never threatened to close the gap, but Lansing was sloppy with the ball and lost focus numerous times. In particular, the lack of focus was evident at the free throw line where LHS made only 10 of 25 tries.
The lead remained at 15 at halftime when the Lions were ahead 29-14.
"It should have been a lot worse than that," Andrews said, citing his squad's poor free throw shooting and inability to finish from close range. "Thirty points we (left on the table). Two of nine free throws, and at least 12 layups : point-blank layups that we missed. That's at least 30 points we should have had."
The Lions gradually expanded the lead in the second half, and Andrews said he saw numerous bright spots from his reserves. The bench players accounted for 31 points, including 12 from Morgan Chiles, six from Katelyn Griffen and five from Abbey Lozenski.
Nietzke joined Chiles atop the team scoring lead with 12 points and Brittney Lang had 10. Other LHS scorers included Alexis Ellis with six points, Christine Cordes with four, Darrow with three, Amy Briggs with three and Kari Kelly with two. Cordes grabbed a team-high nine rebounds, and Briggs had five assists.
Lansing next plays at 6 p.m. Friday at Mill Valley before closing out the regular season Feb. 22 at Perry-Lecompton.
Andrews said focus will be key to winning both games.
"For us to get where we want to get, they've got to be more focused, and it's got to be practice, games, no matter who you're playing," he said.