LHS

2nd, 5 Lions 1st at

KVL
Flynn, Hinckley defend league titles; 9 Lions are medalists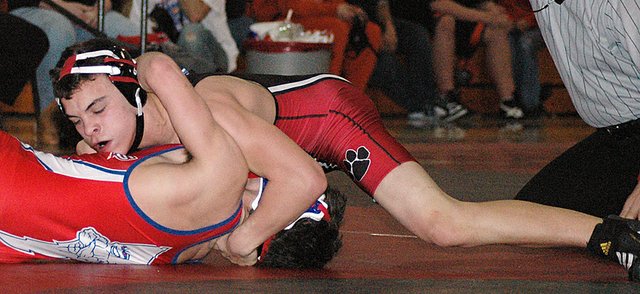 Photo Gallery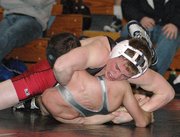 KVL Wrestling Tournament
The Lansing High wrestling team grew tired of runner-up finishes at the Kaw Valley League Tournament years ago, but after coming up just short of defending their league crown on Saturday, the Lions felt a great sense of satisfaction.
Second wasn't so bad this time.
Not when you consider the league was as talent-laden as it has been in years, the competition was intense and the Lions were short-handed.
In addition to having an open position in the lineup at 112 pounds all season, senior 119-pounder Dennis Wood - a defending league champion and 2007 state runner-up - was unable to compete after reaggravating a back injury during practice last week.
Keeping all that in mind, finishing eight points behind league champion Santa Fe Trail and one point ahead of third-place Tonganoxie is pretty darn good.
"I'm extremely happy with the way we performed throughout the tournament and throughout the day," LHS coach Ron Averill said. "We came into the tournament knowing that it was going to be a tight race throughout, but really I was wanting to see how each individual performed, and we really just stepped up throughout the day and had some big wins."
Nobody turned in bigger wins than freshmen Spencer Blew, Tyler Baughman and Nathan Wessel, junior Grant Hinckley and senior Nick Flynn. All five won individual league titles. Blew was the champ at 125 pounds, Baughman at 145, Flynn at 152, Hinckley at 160 and Wessel at 171.
Wessel's victory came in arguably the wildest match of the tournament. He was trailing by three points late in his match and was on the verge of being pinned, but he pulled a reversal and won by pin with seven seconds left in the match.
"I knew I was in trouble," he said. "I was desperate and knew I had to do something, so I went for it."
Wessel's victory gave Lansing a temporary lead in the team standings with just a handful of matches remaining, but a strong finish by Santa Fe Trail gave the Chargers the title.
In addition to the five champions, four other Lions also placed in the top four. Freshman Dillon Scanlon finished third at 130 pounds; junior Wes Appleget was fourth at 135; freshman Tyler Terron was fourth at 140, and junior Tyler Strouhal was fourth at 215.
Saturday's showing may be indicative that the Lions are peaking at the right time, but it also was sent a clear message that LHS wrestling will be a formidable force in the years to come. Keep in mind, three of Lansing's league champs and two other medalists all were freshmen.
Flynn was quick to point out the impact that the newcomers made.
"You can't really ask for much more from a freshman class than that performance," he said. "They do what they do, and I just like to watch them wrestle."
The Lions will try to build on their successes from the league tournament when they compete at the Class 5A regional tournament at Seaman High School in Topeka. In addition to Lansing and Seaman, other teams in the regional will be Schlagle, Sumner Academy, Washington, Shawnee Heights, Highland Park and Topeka West.
Averill said he has high expectations for his team at regionals.
"We seem to be peaking at the right time," Averill said. "Everybody's coming off their injuries and illnesses. We seem to be healing up, mending up, coming back strong, so hopefully we'll be able to come back through next week at the peak of our game."