P.E.

teacher settles in at

LIS
Editor's note: This continues a series introducing teachers who are new this year to the Lansing school district.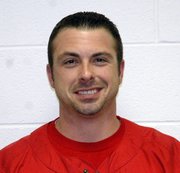 After trying his hand in exercise physiology and then special education, Harley Douglas may have had several careers so far, but he said he's sure he's got it right this time.
Douglas, the new physical education teacher at Lansing Intermediate School and baseball coach at Lansing High School, is settling in this year to a job he said is a perfect fit.
As a P.E. teacher at the intermediate school, Douglas said he is enjoying his time getting to know the students and helping them understand the importance of a healthy lifestyle in a time when childhood obesity has become such a problem throughout the country.
"I want to be that teacher that kids remember," Douglas said. "I want to make that lasting impression on the students so that they will be able to make the choice between right and wrong."
Douglas works with his students on the basic locomotion skills and games, such as basketball and football. He said P.E. gives students a chance to work off extra energy that can distract them from their regular classroom work. When students enters his gym, Douglas said they are more carefree and open, which gives him the opportunity to form a good relationship with them.
"I just feel you can make more of a difference at that age," he said of his young students. "You can shape minds and contribute to their thoughts."
In addition to his duties with his young students, Douglas will be taking over the head coaching position of the Lansing High baseball team.
Growing up, baseball was always something that Douglas said was an important part of his life. Having a single mother who worked often, he said needed something to keep him busy.
Baseball became that distraction and he hasn't stopped playing since. He remembers neighbors complaining about how he would play from sunup to sundown and of the imprinted baseball diamond he left in the grass. In high school the recognition he received drove him to greatness and his coach inspired him to do the same for others.
From 2000 to 2001, Douglas played in the New York Mets minor league organization. He said it was the best time in his life getting to play with such talented athletes, many of who have gone on to the pros.
"Those memories will last forever," he said of his time playing minor-league ball.
For the upcoming baseball season, however, Douglas said he wanted to take the Lansing boys a step further than they've ever been by bringing them together as a whole. He said his goal is to build a pride within the students that gets them excited to be wearing the Lansing jersey.
"I want to bridge the gap and take them from an OK team to a great team," he said.
Before coming to Lansing, Douglas worked in the St. Mary school district as a special education teacher and a baseball coach. He and his family, wife Amy and daughters Britnee, 10, Ashley, 8, and Caylee, 3, still live in St. Mary.
While the long daily commute can sometimes be difficult, he said he actually enjoys the time to himself to work off frustrations of the day or with the team.
He said one of the most important things is to not bring his work home to disrupt his family. The commute gives him that chance and allows him to come home and enjoy every minute with his children, which he knows will be limited once the season starts.
He said family was number one in his life and he fills almost all of his free time with them. From swimming and camping to softball and other games, Douglas said he has so much fun trying to keep up with his children.
"Family and friends are my life," he said. "I'm one of those people that like to keep close relationships."