Saving lives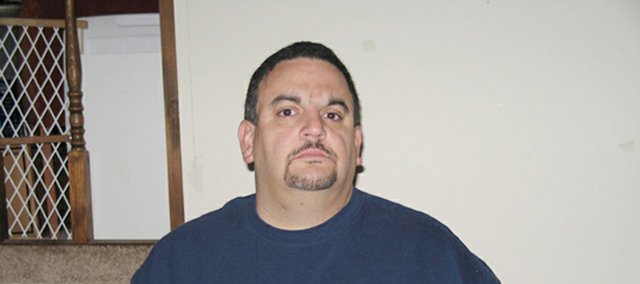 A job with a four-day weekend might sound pretty cushy to some, but not when there's two 24-hour shifts to work each week, too.
And that's not to mention having to deal with life and death situations on a regular basis.
For Lansing paramedic James Fricke, however, the schedule's great.
"It gets to be nice," Fricke said.
Fricke's home away from home is the Leavenworth County Emergency Medical Services station at the intersection of 13th Street and Eisenhower Road, where he work three days on 24, on 24, off 24, on 24, then is off for four days in his job as an EMS supervisor.
The Oakland, Calif., native said he'd wanted to be a paramedic since he was a young child. His great-grandfather worked as a Los Angeles city firefighter, his mother volunteered with the Red Cross and Fricke, himself, remembers avidly watching the 1970s television show "Emergency!" as a kid.
"I couldn't do anything else," Fricke said of his career choice.
After obtaining an associate's degree, Fricke underwent a two-year, 2,000-hour program for mobile intensive care technicians (MICTs), which included bookwork, emergency room rotations, time in hospital delivery rooms, rotations in the burn and psychiatric wards and a field internship.
He now supervises five MICTs and five emergency medical technicians for EMS as well as serving as a cardiopulmonary resuscitation (CPR) instructor for new firefighters in Lansing.
Fricke's experiences in the field have been varied, but he agrees the experience that hit closest to home was having to resuscitate his then-toddler daughter Kaydyn from a near-drowning in the family's backyard pool in 2002.
A barbecue with friends and family came to a screeching halt when Fricke's wife discovered Kaydyn floating facedown in the pool.
"She was bluish gray; she wasn't breathing," Fricke said. "It was definitely a scary situation."
Kaydyn was taken to Children's Mercy Hospital, but, according to Fricke, "36 hours after the whole ordeal, she was drinking a Sprite, eating Cheetos.
"You look at her today, and she's a fish. She loves the water. She's not afraid of it anymore."
NAME: James Fricke
ADDRESS: 300 Crestview St., Lansing
OCCUPATION: A-shift supervisor, Leavenworth County EMS
FAMILY: Kelly, fiance; Cody, 12, son; Tanier, 11, son; Lee, 7, son; Kaydyn, 7, daughter
HOW LONG HAVE YOU LIVED IN LANSING, AND WHAT BROUGHT YOU HERE? "Since '93, and the military brought me here."
WHAT DO YOU LIKE MOST ABOU LANSING? "This is a great place : I'm a military brat and have lived all over the world. It's not too close to a metropolitan area, but it's still 30 minutes away. I'm from the West Coast Bay Area : and the traffic there's just horrible."
WHAT DO YOU DO FOR FUN? "Basically spend as much time as I can with the family."
WHAT MIGHT SURPRISE PEOPLE ABOUT YOU? "That I saved my daughter's life."
WHAT IS THE BEST ADVICE YOU HAVE EVER RECEIVED? "What I've learned, being a parent and working in emergency services, is knowing CPR and first aid."