Second-half surge lifts
LHS

past

IMAC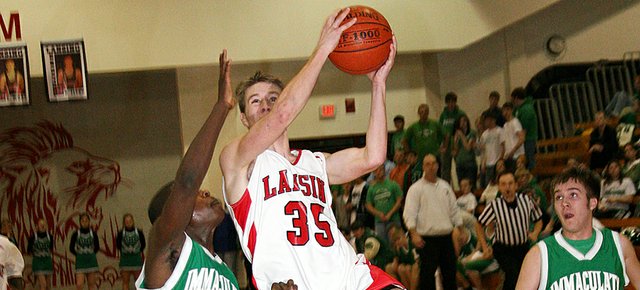 Photo Gallery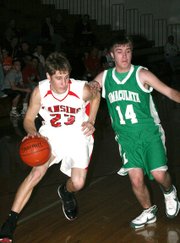 Lansing boys 77, Immaculata 63
The photos in this gallery were taken by Lansing High student Griffin Davis.
For those discouraged by the Lansing High boys basketball team's recent three-game losing streak, relax.
The Lions weren't throwing in the towel on the season. They were just a little under the weather. And now that they're healthy again, lookout.
That was the message sent Tuesday night when LHS rolled to a 77-63 victory over Immaculata at Johnsmeyer Gymnasium.
The Lions weathered an early onslaught of three-pointers by Raiders senior Mike Bassett. They played lock-down defense the rest of the way and allowed the defense to create offense.
They looked like the Lions who won seven games in a row to start 2008, or maybe even better than that, second-year LHS coach Rod Briggs said.
"We just had a lot of guys make some shots," he said. "We were getting good shots, and it really helps us when we have Cody (Rush) hit those little 15-foot jumpers, and that kind of loosens up the defense a little bit. And then Stephen Didde just absolutely made some great shots inside getting fouled."
Bassett's early outburst - three three-pointers and a layup - gave the Raiders a 19-12 lead at the end of the first quarter.
The Lions adjusted after that and had Bobby Hauver shadow Bassett for much of the remaining three quarters. Meanwhile, the 6-foot-7 Rush got active inside. He knocked down free throws and layups, and then stepped out side and swished jump shots. Hauver capitalized on the stretched defense by slashing to the basket for layups.
A layup by Kevin Johnson at the buzzer game LHS a 31-29 lead at halftime, but the momentum clearly had shifted.
"I knew even in the first half when we were only up two, and even when we were down probably seven at one time, that we were playing good enough to probably win the game," Briggs said.
His forecast was correct. Lansing's depth wore on Immaculata during the third quarter, and a heavy mix of Rush and Didde allowed the Lions to build a sizeable cushion. The pair combined for 13 points in the quarter and LHS outscored IMAC, 25-11.
The Lions led by as many as 22 points in the fourth quarter.
Bassett scored a game-high 24 points on seven-for-11 shooting. He made four of five free throw attempts.
Rush led LHS with 18 points; Hauver had 17; Curtis Beall had 14; Didde scored 11; Clayton Hall had six; Johnson had four; Brian Beall, Ryan Delich and P.J. Sigle had two apiece, and Kenneth Ritchey chipped in one.
Lansing (12-6) next plays at 7:30 p.m. Friday at Mill Valley.