10 Lions qualify for state wrestling tournament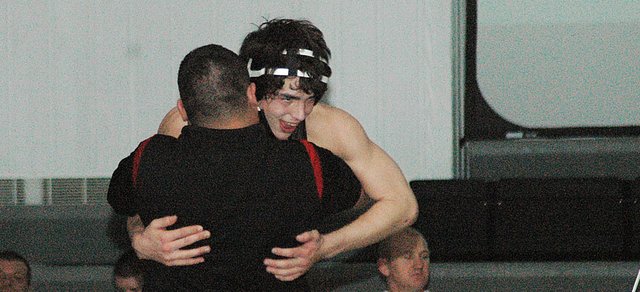 Photo Gallery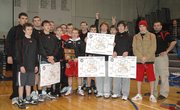 LHS wrestlers second at regionals
Topeka — Ten Lansing High wrestlers punched their tickets to the Class 5A state tournament Saturday at the regional meet at Seaman High School.
Seven freshmen, two juniors and a senior make up the state roster. Senior 152-pounder Nick Flynn and freshman 125-pounder Spencer Blew, freshman 140-pounder Tyler Terron and freshman 171-pounder Nathan Wessel led the way by earning individual regional titles. Freshman 145-pounder Tyler Baughman and junior 160-pounder Grant Hinckley were runners-up in their weight classes. Rounding out the state qualifiers were third-place finishers freshman Dillon Scanlon at 130 pounds and junior Tyler Strouhal at 215 pounds and fourth-place finishers freshman Brett Brown at 103 pounds and freshman Garrett Hinckley at 119 pounds.
Shawnee Heights won the regional team title with 184 pounds, Lansing was second with 162 and Seaman was a distant third with 117.
Lansing's non-qualifiers were junior 135-pounder Wes Appleget, junior 189-pounder Brian Snodgrass and freshman 285-pounder Zach Hammer. All finished one victory shy of qualifying for state.
The Class 5A state tournament takes place Friday and Saturday, Feb. 22-23, at Hutchinson High School. Wrestling begins at 9 a.m. Friday.
For additional coverage from regionals, including more in-depth reporting and photos, check back later to lansingcurrent.com throughout the weekend and pick up the Thursday edition of The Current.