Lansing boys beat Mill Valley, secure No. 2 seed
Rush's career-high 22 points lifts Lions to 54-51 victory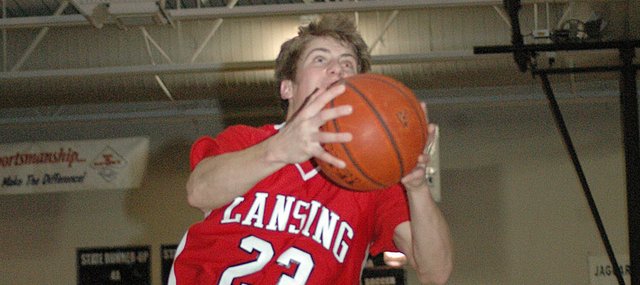 Photo Gallery
Lansing boys 54, Mill Valley 51
Shawnee — The first time the Mill Valley and Lansing High boys met on the basketball court this season, LHS rolled to a 20-point victory.
No repeat performance was on the agenda for round two Friday night.
Lansing won the game, but it was neck-and-neck the entire way before the Lions escaped the Mill Valley gymnasium with a 54-51 victory.
"It's on their home floor, they've gotten better, they had a good game plan and we were minus some people, so it's nice to get a win," second-year LHS coach Rod Briggs said after the game, noting that regular starters Stephen Didde and Kevin Johnson both missed the game with the flu. "We had some guys that stepped up and played pretty good, but it was a total team effort tonight."
Lansing jumped to a quick 6-0 lead as Bobby Hauver knocked down a three-pointer, Cody Rush sank a free throw and Ryan Delich scored on a lay-in, but Mill Valley quickly answered as Max Carroll scored twice and Caleb Smith made two free throws. The teams traded baskets for the rest of the quarter, and the score was tied 12-12 after the first eight minutes.
The second stanza followed the same script. Mill Valley got two buckets from Smith, and four other players scored. Rush had a layup and four free throws, Delich added another basket and Clayton Hall scored twice - including an 18-footer at the buzzer that sent the game into halftime tied at 24-24.
Rush scored seven points during an 11-2 Lansing run at the beginning of the third quarter. That gave the Lions their largest lead of the game at nine, but the Jaguars stormed back with a layup and a three-point play from Carroll and a layup from Kellen Kinnamon.
LHS took a 35-33 lead into the fourth quarter and used a steady dose of Rush and Bobby Hauver to keep the Jaguars at arms length.
A free throw by Kinnamon with 2:30 left tied the game at 45-45, but Lansing went on a 7-1 run during the next two minutes and put the game away at the free throw line.
Hauver hit five out of six free throws in the final 32 seconds, and Curtis Beall sank both of his attempts.
"We want Bobby shooting," Briggs said. "He's proven over the last couple years that most of the time he's going to come through for us in the clutch."
Hauver scored 15 points for Lansing, but the Lions' most consistent performer was Rush. The 6-foot-7 forward scored a career-high 22 points on eight-for-12 shooting, including his first three-pointer of the season. He also made five of six free throws. It marked the third straight game Rush has led LHS in scoring, all victories.
"I think it's just more me getting better position than I was, not being so lazy with the ball, and probably finishing in practice and proving to my guard that I can finish," Rush said of his recent improvement.
Also for Lansing, Delich scored eight points, Hall had four, P.J. Sigle had three and Beall had two.
Mill Valley (7-11) was led by Carroll and Kinnamon with 17 points apiece, Smith had six, Tanner Rainboldt had five, Taylor Reinoehl had four and Ben Huff chipped in two.
Lansing improved to 13-6 with the victory. The LHS win, coupled with a Schlagle loss to Washington on Friday night, assured the Lions of being either the No. 2 seed in the Class 5A substate tournament. It is possible for Turner (10-7) to finish with an identical record to Lansing if the Lions fall to Perry-Lecompton on Feb. 22, but Lansing has a head-to-head tiebreaker over Turner thanks to a 48-40 overtime victory on Jan. 11.